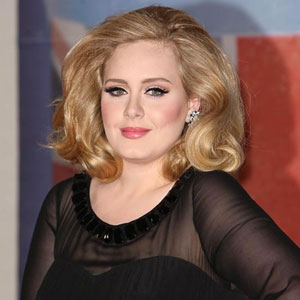 ---
Adele is "incredibly proud" to have scooped two prizes at the BRIT Awards.
The 23-year-old singer—who took home six prizes at the Grammy awards last weekend—took home the first and last awards of the evening, Best Female Solo Artist and the coveted Mastercard British Album of the Year for 21.
Picking up the latter award, The London-born singer said: "Nothing makes me more happy than winning six Grammys and then coming home and winning two BRITs."
Speaking afterwards, she told BANG Showbiz: "It's phenomenal, the success of this album, where it's gone and where it's taken me has just been amazing. It seems to have done it all on its own as well.
"I'm very British, I don't think you can get more British then me, but I've always been proud to be British but being away and my record doing so well overseas, really brings that home to me.
"I'm very much a London girl, always will be, never gonna leave, always gonna be in the UK, so I'm incredibly proud."
Despite her happiness, Adele made an obscene gesture after her acceptance speech for her second award was cut short due to time constraints but she insisted she did not want to offend her fans.
She said: "I'd like to say, I got cut off during my speech for Best Album and I flung the middle finger. But that finger was to the suits at the BRIT Awards, not to my fans.
"I was about to thank the British public for their support and they cut me off, and I'm sorry if I offended anyone but the suits offended me, so thank you very much for all of your support."
Also picking up two awards was Ed Sheeran, who took home Best Male Solo Artist and British Breakthrough Act, while Coldplay—who opened the show at London's The O2 with a performance of "Charlie Brown"— scooped British group.
ADVERTISEMENT - CONTINUE READING BELOW
Bruno Mars and Rihanna were named International Male and Female respectively, while Foo Fighters—the only act not to appear in person—were honored with International Group.
One Direction took home British single, Lana Del Ray won International Breakthrough and Ethan Johns was honoured in the Producer category.
Emeli Sande took home the Critics' Choice Award and was looking forward to celebrating her success.
She said: "I've been so busy since releasing the album, that I'm just going to go out and party now, going to get really drunk."
Blur—who picked up the Outstanding Contribution to Music honor—closed the ceremony, while other performers included Rihanna, Florence + The Machine, Noel Gallagher's High-Flying Birds, which included Coldplay's Chris Martin on keyboard, Olly Murs and Rizzle Kicks, and Ed Sheeran.
BRIT Awards 2012 Full List of Winners:
Best Male Solo Artist - Ed Sheeran
Best Female Solo Artist - Adele
British Breakthrough Act - Ed Sheeran
British Group - Coldplay
British Single - "What Makes You Beautiful" (One Direction)
Mastercard British Album of the Year: 21 (Adele)
International Male Solo Artist - Bruno Mars
International Female Solo Artist - Rihanna
International Group - Foo Fighters
International Breakthrough Act - Lana Del Ray


Critics' Choice - Emeli Sande

British Producer - Ethan Johns


Outstanding Contribution to Music - Blur