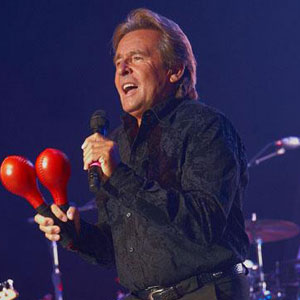 ---
The Monkees singer Davy Jones has died at the age of 66.
The lead singer of the "Daydream Believer" group—which also consists of original members Micky Dolenz, 66, and 70-year-old Peter Tork—passed away from a heart attack earlier today (February 29), a representative confirmed to TMZ.com.
An official from the medical examiner's office for Martin County, Florida, told the website they received a phone call from the Martin Memorial Hospital informing them that Davy had died.
Davy leaves behind four daughters—Talia Elizabeth, 43, and Sarah Lee, 40 from his marriage to Linda Haines; and Jessica Lillian, 30, and 23-year-old Annabel Charlotte from his marriage to Anita Pollinger.
The pop icon—who was born in Manchester, North West England—married 33-year-old TV presenter Jessica Pacheo in August 2009.
In May 2011, the singer said he was having some of the happiest times he's ever had in his life with Jessica.
He explained: "We have love. We have friendship. She's also aware of what I've done in music, and the fact that I no longer really need to prove anything."
Davy joined The Monkees in 1965 along with Micky, Peter, and Michael Nesmith—who did not rejoin the group for their shows last year—and they went on to record a number of hit records including "Daydream Believer," "Last Train to Clarksville," and "I'm a Believer."
Last year, the pop/rock group reformed for a 45th anniversary tour, but they ended up scrapping some dates amid reports of fall outs between the group.
ADVERTISEMENT - CONTINUE READING BELOW
At the time, Micky wrote on his Facebook page: "Dear Fans and Friends, The Monkee Tour has, indeed, been cancelled but for reasons that I cannot discuss at this time. I can say that the reasons pertain to business and are internal matters.
"Needless to say, I am disappointed but the situation was unavoidable and I want to apologise to all the fans out there who will not be able to experience what was a wonderful show indeed. Regretfully, Micky."