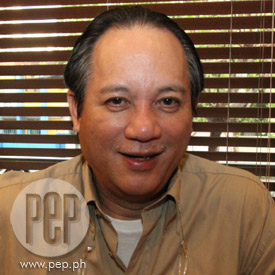 ---
Tonyboy Cojuangco pledged his continued support for Cinemalaya, the annual film festival that is now celebrating its 8th year this 2012.
In a press conference held yesterday, March 7, at the Phat Wong restaurant in Makati City, the businessman vowed to support the Cinemalaya Philippine Independent Film Festival.
He said, "As long as we are achieving the objectives, I will continue to be a part of Cinemalaya.
"In fact, we want to bring this further but I just need a business person. Most of the people running it are on the creative side and the production side."
Since its inception, the goal of Cinemalaya has been "to discover, encourage, and honor the cinematic works of Filipino filmmakers that boldly articulate and freely interpret the Filipino experience with fresh insight and artistic integrity."
The current members of the organizing committee are Mr. Cojuangco (Cinemalaya Foundation chairman), Tess Rances, Maan Hontiveros, Nestor Jardin (Festival Director), Robbie Tan (Monitoring Head), and Laurice Guillen (Competition Chairperson).
CRITICISMS. The Cinemalaya Foundation chairman says that he is not bothered by criticisms being hurled at the organizing committee for disqualifying the entry MNL 143.
It will be recalled that members of the film community have expressed their disagreement with Cinemalaya's decision to disqualify Emerson Reyes, who was initially chosen as one of the finalists of the New Breed category of the 8th Cinemalaya.
Emerson's entry titled MNL 143 was supposed to have Alan Paule and Joy Viado as the lead stars, but the Cinemalaya organizing committee said that his chosen stars "were not suitable to the material."
ADVERTISEMENT - CONTINUE READING BELOW
(CLICK HERE to read related article.)
There are those saying that Cinemalaya is not truly "malaya" (independent) because the organizing committee does not given complete freedom to the filmmaker.
In response to this criticism, Mr. Cojuangco said, "We're really not that free because we have constraints on budget, we have to finish the films by end of May and we require a certain quality because we want to make sure that [we offer] good quality products since we send them to festivals abroad.
"It's a very tight deadline with a very small budget.
"We make sure, especially the new filmmakers who have not done any extensive work in movie production, will be guided by people who know about these things."
An online petition is currently asking for the "reorganization, change of leadership, and reassessment of Cinemalaya Independent Film Festival (CIFF)."
Mr. Cojuangco admitted that he does not spend much time on social networking sites and neither does he maintain a Twitter account.
He pointed out, "I think Cinemalaya has built up a reputation of producing quality films.
"It has successfully changed how people do movies here in the Philippines.
"Every year, there's a post-festival assessment and we note the comments on how to improve.
"More aspects are being modified as needed based on the post-festival assessment.
"Right now, we don't want to spend too much time quarrelling because the festival is in a crucial moment right now.
"We have to finish by May."
The chairman is also not bothered by a petition calling for a boycott of the annual film festival.
ADVERTISEMENT - CONTINUE READING BELOW
"Cinemalaya is known for its quality. Calling for a boycott won't work out," he declared.
On the other hand, when Laurice learned that the boycott is being spearheaded by a filmmaker from Mindanao, she quipped, "I'm also from Mindanao but I think in my hometown, there won't be a boycott of Cinemalaya."
When asked if he will implement changes in the way Cinemalaya is being run, Mr. Cojuangco stressed:
"I believe in the way we do things. Every year, may one or two na may problem.
"We're trying to get big pa. We're in the process of improving.
"There will always be one or two people who are difficult to deal with.
"Even in business, it's like that. There will be people who are not easy to handle.
"We're not all made of the same stuff. Some are quiet, some are noisy."
When PEP.ph (Philippine Entertainment Portal) asked for his reaction to those asking for reforms to Cinemalaya, Mr. Cojuangco said:
"If Cinemalaya will continue to churn out good movies, no amount of attacks will be able to take that away from Cinemalaya.
"For us, we just have to focus on what we are doing and make sure that we continue coming out with good movies.
"There will always be people who will attack [you]. It's a part of life."
Would he consider this controversy as the biggest problem that Cinemalaya has faced since its creation in 2005?
"I didn't feel it," Mr. Cojuangco replied.
ADVERTISEMENT - CONTINUE READING BELOW
"This comes and goes. I don't even consider this as a problem.
"We've had quarrels with other filmmakers before regarding financing, regarding beating deadlines... this time, it's casting."
ON EMERSON REYES. In a previous interview with PEP.ph, Emerson said that he is talking with his lawyer regarding his next move.
Mr. Cojuangco then disclosed, "He has no contract with us. We have not agreed to anything.
"We never agreed to do his movie because he cannot agree with us on the first six items [of the memorandum of agreement]."
The Chairman believes that Emerson still has to learn a lot when it comes to making films.
"Bata, e," said the businessman.
"Bata, e, marami pa siyang kakainin when it comes to maturity and how to handle situations. They will learn when they get older.
"Just like me, I'm a senior citizen. I don't get bothered too much by these problems."
What is Mr. Cojuangco's message to Emerson?
"Last year, when he won in Cinemalaya, I told him personally that I enjoyed his short film.
"Even if he attacks Cinemalaya this year, it doesn't take away the fact that I enjoyed watching his short film.
"As long as we continue churning out good movies, there will be no problem."
In the 7th edition of Cinemalaya, Emerson won three awards for his short film titled Walang Katapusang Kwarto. This short film won Best Film, Best Screenplay, and the Audience Choice Award.
Since Emerson already joined Cinemalaya last year, doesn't he already know the procedure about submitting an entry to the annual film fest?
ADVERTISEMENT - CONTINUE READING BELOW
Cinemalaya's Monitoring Head Robbie Tan explained: "Sa short films, wala kaming pakialam talaga. Wala kaming binigay na money.
"He didn't have to follow any rules hindi tulad [sa New Breed category]."
When asked if they will allow Emerson to join Cinemalaya next year, Mr. Cojuangco explained that the selection committee members do not actually know the identities of the persons who submit entries.
"This is because the identities of the writers are revealed only after their works have been chosen by the selection committee.