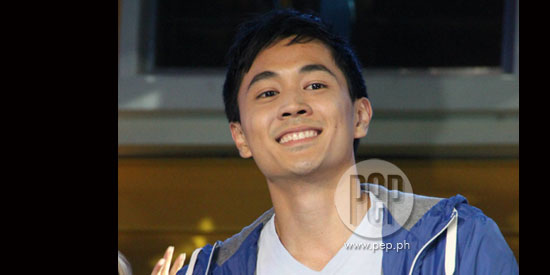 ---
Slater Young, Big Winner of the latest season of ABS-CBN's Pinoy Big Brother, admits that bagging the top prize is just the first step to fulfilling his dream of joining showbiz.
The Cebuano Civil Engineer-turned-PBB housemate bested almost 40 tenants of the most famous house in the country.
"The PBB chapter of my life is now closed. Now, a new, more challenging [and] exciting chapter begins," says Slater in an exclusive interview with PEP.ph (Philippine Entertainment Portal).
"I know being in showbiz is so much harder than what I have been through inside Kuya's house, but I am willing to give my all to this dream [of joining showbiz]."
Slater was declared the winner when he obtained a whopping 40 percent of total text votes during the final stretch of the show, while the runners-up received around 20 percent each.
He is the first male housemate to win the regular season of the show.
With such an overwhelming victory, Slater, who stood out early in, and throughout the competition, is expected to break into the industry with ease.
"I am overwhelmed with the overflowing support I received, but I know a lot of work is still at hand," says the 24-year-old Cebuano heartthrob.
"And I intend to work extra hard to be worthy of the support I have been blessed with."
PRESSURE TO ACT FAST. However, barely a week after Slater was hailed the Big Winner, PBB is set to welcome another batch of hopeful teenagers in PBB Teen Edition 4.
ADVERTISEMENT - CONTINUE READING BELOW
Does he feel any pressure?
Slater shares that people often tell him that he has to act fast because another batch of housemates will be introduced to the public on Easter Sunday.
"I am the type of person who takes things as they come. I will do everything I have to do, and control things [if] I can, but that's about it." he explains.
"I wouldn't say that I am not pressured. Of course, I am.
"But, there are things beyond my control and this [opening of a new season] is an example. I'd rather focus on the things I could work on."
ACTOR FIRST. Slater, who considers himself more of an actor than singer or dancer, will undergo acting workshops to prepare him for future assignments.
He has attended acting exercises in the past and, according to his handlers, Slater shows great potential.
Asked to comment, he says, "Oh, they said that? Well, yes, maybe, I excel in acting."
While acting seems most organic to him, Slater describes dancing as his Achilles Heel.
He adds that given a choice, he'd rather sing than dance, but during his ASAP 2012 guesting, he was assigned a dance prod.
"I was trembling the entire time," says Slater.
"Plus, seeing great dancers like Billy Crawford and John Prats added to the pressure. I know I was far from being pleasurable to watch, but I'll work on it."
FAMILY BIZ TO SHOWBIZ. Slater also admits to having culture shock, "but in a good way," he clarifies.
ADVERTISEMENT - CONTINUE READING BELOW
He enjoys the presence of fans waiting for him, loves getting messages from tweeps, and looks foward to sharing the screen with celebrities.
"This is so different from [life in our] Cebu-based family business.
"Now, I am in showbiz," he explains. "It is nerve-wracking and exciting at the same time."
In his previous interviews, he always paid tribute to his family. This seems to be his battle cry when he was in the PBB house.
"I really wanted to show everyone, most especially my parents that they have raised a good child," says Slater.
"My mom had reservations when she learned that I would be joining PBB, but this was really something I wanted to do, so I went on with it.
"Hopefully, they are proud of what I have shown."
HIS FATHER'S SON. He adds that before entering Kuya's house, his mom reminded him: "You are your father's son."
This served as inspiration, motivation and reminder for him.
Described as being good-natured and a gentleman, many housemates were smitten by Slater's charms.
He considers, however, Tin, daughter of cager Alvin Patrimonio, and Divine, tattoo artist and proud lesbian, closest to him.
Was there a time when he felt he was falling in love with a housemate?
"For Tin, siguro crush. Ganun. But it never developed into something more than that inside the house," says Slater.
"However, now that we are outside the PBB house, anything is possible. For now, I hope we all remain close friends."
ADVERTISEMENT - CONTINUE READING BELOW