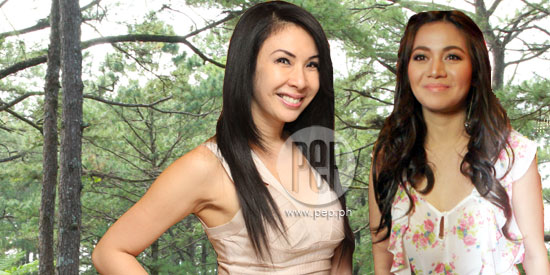 ---
Baguio City residents have been fighting since late last year to save 182 pine and other trees in Luneta Hill, upper Session Road.
The trees, some as old as 70 years, are targetted by the SM Group for cutting and earthballing. In their place will be SM Baguio's enormous parking lot.
Environment activists—students, artists, journalists, the clergy and community folk—launched signature campaigns and marched down Session Road, appealed to the conscience of local officials, and called on everyone to boycott SM Baguio.
Over several months, the protest actions turned into a people's movement.
Despite all the cons, SM already balled some of the trees around its mall on Luneta Hill.
According to Baguio residents, the balling operation began on April 10 at 1a.m. Photos of that incident immediately made their way on Twitter and Facebook.
Sadly, the Department of Environment and Natural Resources (DENR) granted the permission to cut these trees.
CELEB OPINIONS. PEP.ph (Philippine Entertainment Portal) asked some celebrities to comment on the issue: Here are their answers:
Kyla: "About granting permission to cut the trees in Baguio, I don't like the idea. Those trees took years to grow. They've been there for the longest time. If they would, like they said, plant trees there, [though] it would take many years to grow them again. I would rather see trees than a parking lot. No matter how much money they get from the parking space, it can't help us when disaster comes."
Jed Madela: "I am really disappointed [that] they granted permission to cut the pine trees in Baguio to give way to what they call 'development.'
"After all the disasters that happened because of [the] lack of trees...they should've learned their lesson. Trees do not grow in a span of months, it takes years. I hope and pray they pull back that decision."
ADVERTISEMENT - CONTINUE READING BELOW
Yael Yuzon: "Well I think, at the end of the day...kasi parang when you replace plants or replace trees, it's not the same thing, e. Parang it's like even if you put 50 plants for every tree that's cut parang it's not...
"First of all, it's not just the trees, animals live there, too. So it's also a question of animal rights and a lot of living things, e.
"At saka I think Baguio kasi...well, mawawala yung Baguio, the Baguio-ness of Baguio with every tree you cut.
"And you know mga pine trees pa na...[they've] been there every day. Parang naging story na ng Baguio...well, actually, story na ng world 'yon."
Rafael Rosell: "I think we're killing the very thing that's keeping us alive. This must stop."
Giselle Sanchez: "I know SM has a sustainable development plan for our environment and our future. SM describes their commitment to the environment as holistic, strategic, and for the long term.
"Uprooting 182 pine trees and transferring them gives the tree a 20 percent chance to die even if handled by specialists. Worse are the consequences of the land after a tree is uprooted.
"Is profitability more important than possible landslides and flooding in Baguio caused by the uprooting of these trees? There is a reason why God placed those trees there, you know."
K-La Rivera: "My take on the government granting permission to SM City Baguio to remove and then replant their pine trees is, the issue [should be] in the hands of the residents of Baguio.
"I think their opinions should be voiced, through voting, and whatever the outcome is would be the most proper and necessary action to take. This would help avoid any recurring implementations of restraining orders once construction begins again in the future."
ADVERTISEMENT - CONTINUE READING BELOW
Yen Santos: "Siyempre disagree ako dun. Dapat hindi pinayagan ng DENR na putulin ang mga century-old na pine trees. Or kung wala ng ibang paraan, dapat palitan ng bagong seedlings na itatanim para sa bawat pine tree na puputulin. Para sa mga dadating na henerasyon may mga pine trees pa silang mapakinabangan."
Ian Galliguez: "It is a huge mistake which they will pay for later on. Clearly, they think a parking lot is more important than pine trees."
Joshua Colet: "Like every living creature on this planet, pine trees should be granted their right to continue residence in their existing abode. Not everything can be bought! If they cut down these precious trees, everybody will suffer the consequences."