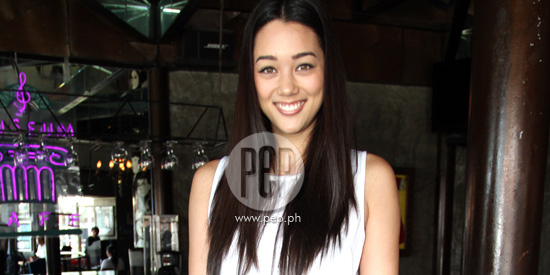 ---
When Kim Jones and Jericho Rosales met, she had no idea who he really is.
The two met in a dinner party hosted by a make-up artist friend of Kim, March of last year.
"I knew who he was, sort of, in the industry, but I don't know to what, sort of, extent," the 24-year-old Filipino-British model turned TV personality told PEP.ph (Philippine Entertainment Portal) yesterday in a presscon held by Angeli Pangilinan-Valenciano's Manila Genesis Entertainment and Management, Inc., the management team she's with right now.
She only realized how popular the Nang Dahil Sa Pag-ibig actor was, when people started to ask photo ops with him while they were dating.
"It was, sort of… I mean, 'Why is everyone taking photos with him?'
"But I got used to it slowly. And it was fun, it was nice. Like I said, fans have been really supportive."
ADVERTISEMENT - CONTINUE READING BELOW
Kim moved to the Philippines from Australia a year and a half ago.
After some modeling gigs, she landed a job as a roving reporter and host for Solar Entertainment Corporation's UHF channel ETC. She's one of the hosts of the 15-minute lifestyle show Etcetera on ETC, every Sunday at 7:45 p.m.
She's also one of the guests in Gary Valenciano's On Higher Ground concert series in Music Museum. The show began on April 12 and has only four nights left on the Greenhills, San Juan City theater: tonight, April 26; tomorrow, April 27; May 9; and May 10.
Kim appreciates how Jericho's fans completely support their relationship.
"I love his fans. They… we tweet each other all the time.
"It's nice to have that support."
The fans have been very supportive of Kim and Echo's relationship that they already have a name for the couple.
"I think it's 'JeriKim'?" Kim laughed after mentioning the fans' portmanteau of their names.
ADVERTISEMENT - CONTINUE READING BELOW
Kim and Jericho officially became a couple on October. It took them about four months before they finally decided to let the public know about their relationship.
"We talked about it. We wanted it to be the right timing," Kim said.
Kim also said one thing she and Echo are preventing to happen is for people to think that she is using Echo as a launch pad for her own career.
In one interview of Echo, he said he wanted Kim to be known for her own talents and not just "Jericho Rosales's girlfriend."
Kim appreciates this gesture by her boyfriend.
"Me as well, I have my own dreams and aspirations," she said.
And how does Kim want the people to know her?
The five-foot-seven Fil-Brit giggled before giving an answer, "Well… how do I answer that?
"I'm just here doing what I love and doing what I'm passionate about, like hosting and things like that.
ADVERTISEMENT - CONTINUE READING BELOW
"Especially to young women, I like to, sort of, reach out to them in any way I can," Kim said.
Get to know Kim Jones more here: