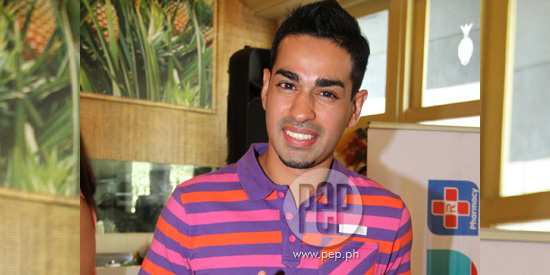 ---
PEP.ph (Philippine Entertainment Portal) had the chance to interview radio jock-TV personality Sam Gogna—more popularly kown as DJ Sam YG—during the Watsons NOW Foods event at the Stock Market Café on Bonifacio High Street in Taguig, yesterday, May 15.
As a radio host himself, we asked his opinion about DJ Mo Twister's recent two-week suspension after their radio show, Good Times, made the false Twitter hashtag #charicepempengcosextape trending.
(CLICK HERE to read related article)
"Well, it was under… there are things we do... we're radio jocks, we think on the spot, everything's live, sometimes our...
"Honestly, sometimes our mouth thinks faster or reacts faster than our brains—I think that's the best way to explain it," Sam stated spontaneously.
"Minsan wala, e… ang bilis kasi bawal magka-dead air.
"You have to produce material on the go, on the fly, so sometimes we do tend to have bad jokes or create bad jokes.
"But wala, it's a learning experience."
He added, "We've all had our ups and downs.
"I think if you offended somebody, siyempre naman may kaakibat na... I don't know if you want to call that punishment or something.
"It's the way things go."
A BAD JOKE. But did he think it was fair that DJ Mo, DJ Suzy, and DJ Mia were suspended by Magic 89.9?
"It was an inside joke actually, it was really… yeah… an inside joke.
"But like I said, it was a bad joke.
"Some people found it funny like it's a joke, e… some people will find it funny, some people will not find it funny.
ADVERTISEMENT - CONTINUE READING BELOW
"Like when I crack the Bumbay jokes, di ba?
"For other people, 'A. okay, laugh trip, e. But for... I bet 'pag puro Indians yung nandito, baka hindi sila matawa…
"'A, gago ka, a! Ganun, a!'" Sam, who is 100-percent Indian, is referring to his mimicry of the proverbial Indian money lender.
"Di ba… So really, you can't please everybody at the end of the day. Might have been a bad joke.
"I think, ganito na lang, I think the station acted properly towards that incident. They did what they think was right," he said on a serious note.
"So, of course, I'm gonna support the network as well kasi, I think, with all due respect to Magic, if you let things like that go by all the time, it's also not the ideal thing."
SUSPENSIONS. For his part, Sam has also experienced being suspended before.
That is because their late-night show, Boys' Night Out—also being aired on Magic 89.9—has a reputation of being more suitable for mature audience.
"Yeah, like I said, we've all had our share with suspensions.
"In our earlier days, I guess, mas medyo ano—young, wild, and free kami 'non…
"And I think with the audience we're getting, we get a lot of people who are like eight years old, 12 years old calling the show, kahit papa'no…
"Especially in summer, and kids listen, they listen to what you say so at the same time… we sort of have this sense of responsibility na rin na…
ADVERTISEMENT - CONTINUE READING BELOW
"Di na puwede yung laging ano, e, di ba, puro ganun.
"If ever we're gonna say something about sex, it's always like, make sure you know what you're doing…"
Sam elaborates on this sense of responsibility.
"HIV [Human Immunodeficiency Virus] is a big… we're advocates for World Health Organization recently—kaming tatlo," he said, referring to his two other co-DJs, Eric Virata and Toni Tony Bueno.
"So, a big cause of concern in the Philippines is the spread of HIV kasi nobody's aware of it or we're so ignorant.
"Kasi if you don't have any idea, maaapektuhan 'yan, e.
"So you always make sure on your show, even if you talk about sex or these things, we always put the reminder na, 'Okay, don't practice it.'
"If you can wait, wait, di ba? I know everybody's after like the thrill or whatever of it. If you can wait, wait.
"So it's more of ano... to being responsible also about...
"I think now we recognize the audience that we're targeting and the audience that actually listens to the show.
"You have to have a bit of responsibility also, and as much as you want to entertain, you wanna be responsible about things also."
TV EXPOSURE. Sam currently has a stint in the longest-running noontime show, Eat Bulaga!, tapping on his Indian roots as Shivaker.
Would he like to do more TV shows?
"Right now, I think I'm pretty happy, I couldn't ask for more.
ADVERTISEMENT - CONTINUE READING BELOW
"Like I'm on Eat Bulaga!. Thank you to… sina Tita Malou [Choa-Fagar], Mr. [Tony] Tuviera.
"And I'm on Boys' Night Out at night.
"So I think I have pretty much have a good balance na rin 'cause in between, a lot of people don't know, every night, it takes a lot to produce a Boys' Night Out Show.
"We write a lot, it takes three to four hours just to produce that four-hour show. So it takes a toll.
"I also have a couple of businesses, our shirt businesses out there, the Boys' Night Out tees, which takes a lot of time as well.
"We also have other business and we have another business coming up."
Sam is pretty much contented with what he's doing right now, but if the opportunity presents itself, he wouldn't likely say no.
"So with all these things going on, I think… I love doing TV, I love it.
"If an offer comes, that I think is good, I'd love to do it, and why not?"
SOLENN HEUSSAFF. On lighter note, we asked Sam what role he would want to play. Would he want to explore his character as Shivaker, further?
"Siguro sexy star naman, para maiba tayo!" he quipped.
And his dream leading lady?
"Si Solenn [Heussaff]! Gusto ko yung bagay sa 'kin, e.
"Di ko alam kung bagay ako sa kanya, pero bagay siya sa'kin!
"Pinagtabi ko picture namin sa Photoshop, bagay.
"Pakisabi sa kanya yun, baka hindi niya pa na-realize!"
ADVERTISEMENT - CONTINUE READING BELOW