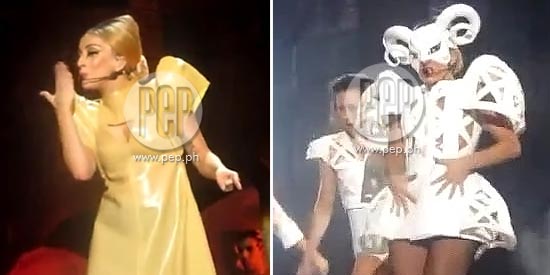 ---
As promised, the first night of Lady Gaga's Born This Way Ball tour showcased a "whole performance of LIBERATION."
The Mother Monster (her moniker) marked the debut of Mall of Asia Arena with larger-than-life sets, a huge group of little monsters, avant garde fashion, and a repertoire that knows no bounds.
Despite the protests led by a number of Christian youths, the American singer rendered the controversial "Judas," which earned a thunderous cheers from her Pinoy fans.
To which, Lady Gaga remarked, "Oh, you like this song, huh…"
And, she was not in the least bothered by the censorship issue because the 26-year-old hitmaker uttered the F word several times.
In between her songs, she exclaimed, "Manila, are you having fun? If you're not, I don't give a f*ck!!!"
But when it's time to confront her critics, Lady Gaga turned emotional:
"I'm not an alien, I'm not a woman, I'm not a man, and I'm not a creature of your government, Manila.
"I'm all your dreams and I'm all your potential. Let me be all your insecurities and your fears.
"I'm your future… I'm everything that makes you sad and angry.
"I'm you, little monsters.
"Tonight's not about making a statement. Tonight's us all coming together because we believe we were all born this way.
"Some people say I stand for things that are bad.
"The truth is: I want the best for every single one of you..."
ADVERTISEMENT - CONTINUE READING BELOW
Among the hits she sang were "Bad Romance," "Hair," "Just Dance," "Marry The Night," "Pokerface," and, of course, "Born This Way."
And just before leaving the stage, she told the audience, "It's all about the truth... It's the f*cking goddamn truth that people in the world need to be free and be proud of who they are."