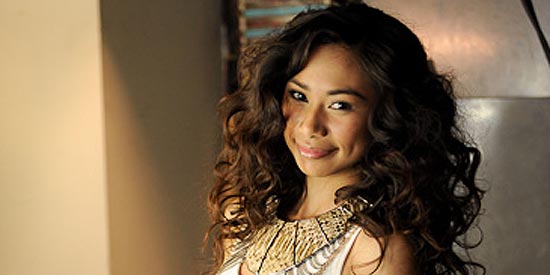 ---
"I think America made the right choice," said Jessica Sanchez about being defeated by Phillip Phillips in the recently concluded American Idol Season 11.
The half-Mexican, half-Pinay Idol hopeful finished second during its finale yesterday, May 24, but she never felt disappointed about the result.
In an interview with Adam Vary of Entertainment Weekly after the finale, which was posted on its website yesterday, she praised Phillip for giving his best throughout the competition especially during their face off last Tuesday night (American time).
She said, "Not that I don't think I'm not good, but he's worked hard for it.
"You know, he's really, really put his heart and soul into it, and he's pushed through all the health issues, and he's done it.
"He did it. I'm so happy for him."
When asked how she was feeling after the finale, the 16-year-old Idol contestant replied, "I'm feeling good. I'm so happy for Phillip and I'm so glad that it's over. He's happy that it's over. It's great. I'm excited."
Jessica showed no bitterness at all about not getting the title.
She explained, "You know, we all really wanted to win, but it was never expected. So, we just worked hard, tried our best, and sing our hearts out."
Prior to the announcement, Jessica and Phillip performed a song that would be their first single in case they win the competition.
Unfortunately, Jessica's "Change Nothing" was not able to impress the American Idol judges Steven Tyler, Jennifer Lopez, and Randy Jackson.
The Idol runner-up also admitted to the show host Ryan Seacrest that the song did not really showcase her talent as a singer.
"That's definitely not me," Jessica told Entertainment Weekly.
"I mean, I wanted to get into pop and stuff but not that much, just a sprinkle of it. [Laughs]. I'm more like an urban/R&B kind of singer."
ADVERTISEMENT - CONTINUE READING BELOW
Did she think it had an effect on the votes?
"I don't know. I have no idea," she replied.
DUET WITH JENNIFER HOLIDAY. During the two-hour finale, which was aired live on local channel ETC yesterday, May 24, Jessica did an outstanding duet with music icon Jennifer Holiday.
Both singers earned praises from different social networking sites for their performance of Dreamgirls original soundtrack "And I Am Telling You I'm Not Going."
According to Jessica, she knew about that performance only the day before.
"Everything was such a mess," she blurted.
"I didn't know who I'm singing with or if I'm gonna be singing with anybody.
"Everything was all last minute.
"Like that "I Will Always Love You," that was only like a couple of hours before the show."
How did she feel about singing with one of her favorite music artists?
Jessica admitted that Jennifer was intimidating. She added, "She's very intense. It's amazing how good that woman can sing.
"I was very intimidated, but I was like, 'This is the last song that I would be singing.'
"She's an amazing person I look up to ever since I was a little girl.
"So, I sing my heart out and I do what I had to do.
"I brought up every emotion to myself and just let it out into that song."
Along with the positive remarks, there were some fans who turned their duet into humor.
Moments after the announcement, people already created Internet memes of their performance. Most of these showed the intense facial reactions of Jennifer while singing.
Jessica's duet with Jennifer Holiday:
What was the reaction of Jessica?
"I don't know, we're both that way," said Jessica, laughing.
"I wasn't paying much attention because I was also making faces myself. I was making those… yeah, it's funny."
ADVERTISEMENT - CONTINUE READING BELOW
After all the tension and excitement during the whole competition, Jessica was relieved that the show is over.
"I'm happy that this is over and I can be myself and do what I need to do," she said.