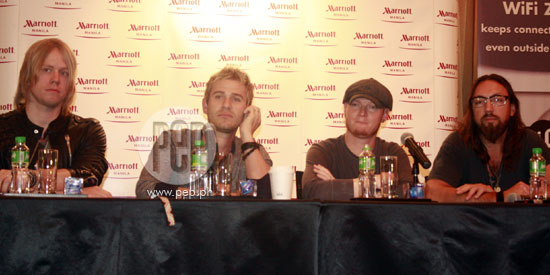 ---
American rock band Lifehouse will perform in Manila tonight, May 26, at the Smart Araneta Coliseum.
The four-man group composed of Jason Wade on vocals, Rick Woolstenhulme Jr. on drums, Bryce Soderberg on bass, and Ben Carey on lead guitar, first performed here in Manila last July, 2008.
The band captured our hearts with their hit songs, "Hanging by A Moment," "Everything," and "You and Me."
Last Thursday, May 24, at their presscon at the Marriott Hotel, PEP.ph (Philippine Entertainment Portal) and other members of the press were curious to know why the band took so long to return to Manila.
"We talk about this all the time and I'm not just saying this because you guys are in the room. That show, to us, since the inception of Lifehouse, was probably the most special show we've ever done," Jason said about their first Manila concert.
"And I'm not saying that because you guys are here. Literally… For a lot of different reasons. That was the biggest show that we've ever [done] together.
"To see that many people come out and sing our music back to us… Four, five times, I kept looking back to Rick and we're just in awe.
"We couldn't believe the response that we were getting, so…the fact that they took us four years to get here, you know, kind of made us sad.
"We wanted to be [here] sooner, we were on our agents and managements to get back as soon as possible.
"So, that shows, kind of like, the pinnacle of our career and we're in this for twelve years. So, [I'm] really, really excited for Saturday," he said.
SONGWRITING. We asked about their process of making a song. Do they work on it together or individually?
ADVERTISEMENT - CONTINUE READING BELOW
"It's kind of evolving, to be honest. Uhm, When we started, a lot of the music started with just me on the guitar and I would finish the whole song and I would teach the other guys…we'll work it out on the studio," Jason replied.
"On this new project, we're starting a lot…a lot of the songs are coming out from late night sessions where we [were] just kind of creating songs on the spot."
"[Then] we'll kind of iron out the melody and the lyrics so...like I said, it's always evolving and it seems like there's a lot more collaboration with us just kind of being present in the moment," he explained.
Does it begin with the melody or the lyrics?
"It's different every time. I mean, there's this one track that we've been working on, [and] this has never happened before, I woke up with a melody and it actually came from a dream, you know," Jason explained.
"I went downstairs and I grabbed the guitar and I ironed out the melody to figure out how…it was.
"And I actually had a lyric from the dream too, so…you just never know. Like a lot of ideas [come to you] in like, three or four in the morning, so…I was trying to be present enough to capture a moment there," he added.
ON LADY GAGA. PEP asked the group what they thought of the attempted censorship on Lady Gaga's concert?
This time, it was Bryce who answered, "It just depends on the artist, I guess. I mean, as far as Lady Gaga goes, she reaches out to a broad…mass audience, people like her.
"And obviously, on the radio, she can't use swear words, at least the recorded form. And, it just depends on the artist.
ADVERTISEMENT - CONTINUE READING BELOW
"For us, I don't think we'll put out content that's gonna be offensive to many people, so…it's really what works for [her]…"
CHRISTIAN BAND? Lifehouse was previously thought of as a Christian band, especially because of the single, "Everything," as the lyrics were said to refer to God.
But Jason clarified, "The Christian thing, we…our goal is to make a good album, you know. We never wanted to put it in a box.
"So, it's awesome that our music is universal and… people are singing about their boyfriend, girlfriend, God.
"We just think that it's great for people to interpret our music however they want it."
THEIR MUSIC. What keeps rock music fresh?
Bryce answered, "[The] music industry is constantly changing. There's like, much new bands collaborating with RNB artists and hiphop artists, country artists. Everything's kind of, mashing together.
"As far as rock is concerned, there will always be a demand for rock music like guitars, drums, organic music…like we do.
"We play a lot of our songs without tracks…just sort of a live rock 'n' roll band. We really like listening to a lot of hip hop, RNB.
"A lot of new bands are kind of like mashing together like Foster the People and just new American bands coming out there like AWOLNATION. There's a mash up there and there's always gonna be a demand for [rock music]."
Jason added, "Everyone's kind of talking about the demise of the record industry [since] record sales aren't what they used to be.
"I don't really feel like that reflects on how much talent is out there. And people don't really talk about the positives of newer bands that aren't gonna get signed by a major label.
ADVERTISEMENT - CONTINUE READING BELOW
"They can use…you know, their iPads to make music and they can go on to YouTube and they can develop a fanbase by themselves and they don't need to rely on anybody else pushing them.
"So I think there's a huge positive about what's going on right now... Record sales aren't what they used to be…but there's still a ton of talent out there."