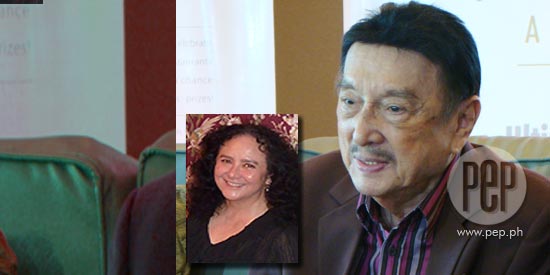 ---
It's not a secret that Comedy King had fallen in love with several women in the past, and one of them was former '70s actress Lotis Key.
In the book Dolphy: Hindi Ko Ito Narating Mag-isa, which was launched during his 80th birthday celebration in 2008, the legendary actor admitted, "I almost married her."
The Comedy King was, of course, referring to Lotis.
Lotis, who is now based in Minnesota, attested to this in a letter she gave to ABS-CBN North American Bureau Chief Nadia Trinidad, which was published in ABS-CBN news website yesterday, June 28.
The writer-actress said she and Dolphy clicked because "we could both die laughing from our own jokes."
In a trip to Las Vegas when they were still together, Lotis said that Dolphy brought gold wedding rings for them.
This gesture, however, did not end in church because Lotis wanted the award-winning comedian to talk to his children and their mother first.
Lotis reasoned out, "I didn't want to hurt them."
Dolphy never gave in to her request but he was still persistent about his intention to marry the Filipino-American beauty.
Lotis recalled, "He never did it, but every few months [he] would bring out those rings and lay them on my dressing table, my pillow, my plate, and just look at me and raise his eyebrows.
"I'd laugh and say, 'What are we going to do? Run away and live on a desert island? These kids are a part of your life. You have to talk to them!'"
ADVERTISEMENT - CONTINUE READING BELOW
Lotis was so conscious about not hurting anyone's feeling during their affair that she apologized to one of the women who was linked to Dolphy when she met her once.
She narrated this incident, "In San Francisco last year, someone pointed out a woman to me and whispered; that's one of the mothers.
"I went over and introduced myself.
"I asked her forgiveness for the pain I'd unwittingly caused so many years ago.
"She turned out to be a lovely, gracious, and intelligent woman."
"WE WERE BEST FRIENDS." Although Dolphy was already a popular celebrity at that time, Lotis said she never got interested with his fame—not even his money.
She related, "Apart from what I earned in his movies, and birthday or holiday presents, I never took money from him.
"He wanted to build me a house but I refused. I never accepted 'sustento' or allowance.
"It was funny because people said it was a sign of his low regard for me that I didn't have a lot of material things.
"To save my reputation, I was even advised to lie and say he'd given me 'this' or 'that'! But money never interested me."
This kind of attitude made Dolphy's family love her.
"I was the only person in his life who wouldn't notice if he suddenly got poor," she said.
Even though their romantic relationship did not have a happy ending, the two remained good friends.
When they separated, Lotis said she and Dolphy would still go out regularly for dinner, which was, according to her, "an excuse to talk for hours."
ADVERTISEMENT - CONTINUE READING BELOW
She said, "Our years together were marked by hysterical kuwentuhan that made us laugh so hard we'd both get asthma attacks."
At the end of her letter, she wrote this heartwarming statement about her former lover: "Oh Dolphs, you were the sunshine of my life in those days.
"Somewhere in time we'll always be connected, two giggling kids in blue jeans. In my old age now, I think of you and smile."
Some of the movies Dolphy and Lotis did together were Captain Barbell (1973), Facundo Alitaftaf (1978), Darna Kuno! (1979), Max En Jess (1979), and Bugoy (1979).
The Comedy King is still in the Intensive Care Unit (ICU) of Makati Medical Center where he is being treated for Chronic Obstructive Pulmonary Disease (COPD).