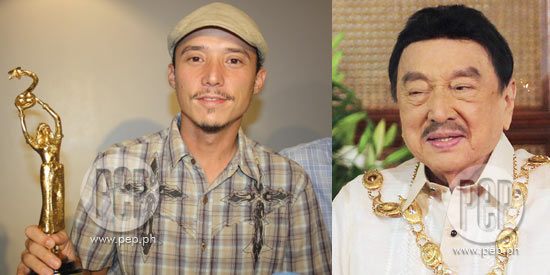 ---
On the afternoon of July 10, Epy Quizon planned to bring his Best Actor trophy to his father Dolphy, who was then confined at the intensive care unit of the Makati Medical Center.
The younger Quizon was part of the ensemble cast that won in the 1stSineng Pambansa for the movie Ang Mga Kidnaper Ni Ronnie Lazaro.
The last time that Epy shared a Best Acting plum was in 2000 when he, his brother Eric Quizon and father Dolphy won in the Brussels International Film Festival for their role in the movie Markova: Comfort Gay.
During the presscon of the Sineng Pambansa held at the AIM conference center in Makati City yesterday, Epy revealed that his father has been communicating with them by mouthing words since Dolphy lost his voice after undergoing a tracheostomy.
"Makikita mo kasi ang buka ng bibig niya, 'uwi.' No voice is coming out because of the [tracheostomy] but you would see his mouth moving," he described.
Epy even recalled that on July 9, his father underwent dialysis. "Kahapon nga, ang daldal niya. Usually, after dialysis madaldal siya. That's usually late in the morning."
He also reported that Dolphy was faring well against his 12thbout with pneumonia.
Despite these improvements, Epy recognized the precarious condition of his father's health.
In fact, he warned members of the press: "The information I tell you now might not be the real information that is happening right there. Kasi every moment is a different update, every hour is a different update, that's why we have to clump it together and give it on a daily basis."
Unfortunately, Comedy King Dolphy died on July 10 at 8:34 p.m.
According to the official statement of the Makati Medical Center, Dolphy died "due to multiple organ failure secondary to complications brought about by severe pneumonia, chronic obstructive pulmonary disease, and acute renal failure."
ADVERTISEMENT - CONTINUE READING BELOW
(CLICK HERE to read related article.)
How does Epy want his father to be remembered?
"A lot of people hail him as a king, he just wants to be a jester.
"Siya gusto lang niyang magpatawa. My dad is a simple guy."
NATIONAL ARTIST AWARD. There has been public clamor to name Dolphy as a National Artist but the National Commission for Culture and the Arts explained that this a lengthy process that takes years to complete.
(CLICK HERE to read a more thorough explanation of the process.)
When asked for his thoughts regarding this matter, Epy pointed out: "Now kasi, these are the last things on our head. Personally, para sa akin, the best award is my father's health.
"Thank you, he got the Outstanding Manileño [from the City of Manila]. People are lobbying for the National Artist award.
"It would be an honor to have all these awards… surely it would make him happy but now, it's the last thing on our mind.
"Yung National Artist award, hindi kami ang nagbibigay niyan. It is their award and hindi naman namin puwede ipagpilitan.
"For me, pinakamaganda ang sinabi ni MVP [Manny V. Pangilinan] at Direk Joey Reyes: he is the National Treasure."
Epy took this opportunity to show his gratitude for his father whom he looks up to as his idol.
"For me, he's my National Artist, he's my National Treasure, he's my commander-in-chief, he's my father."
"Ang sa akin, he is who he is because he is true to his craft.
"He did not do this for the awards, he did this because it is his craft: his craft is to make people laugh.
"His craft is to sing to make people happy even if he is not a singer… to dance in order to entertain people.
ADVERTISEMENT - CONTINUE READING BELOW
"He is an entertainer. He was born to be an entertainer.
"Winning all the awards, the Best Actor award, parang cherry on top of the icing. But the real reason why he's there is because of the craft.
"And award or no award, he will always be my king."
SACRIFICES FOR THEIR DAD. Since Dolphy was declared under critical condition, members of the family who were abroad decided to return to the Philippines to tend to their father.
Epy narrated: "Yung iba, binibigyan na sila ng ultimatum: 'bumalik kayo or else you will lose your job.'
"One sister of mine lost her job already. Sa Australia, si Nicole [nawalan ng trabaho]."
How did their family cope with Dolphy's condition?
"Our family has been brought up with a smile on our faces and laughter in our hearts. And that will never disappear in our hearts.
"We keep ourselves in high spirits even if we are at our lowest [points]. We laugh even though our hearts are crying," said Epy.
(To view PEP's tribute for the Comedy King, CLICK HERE)