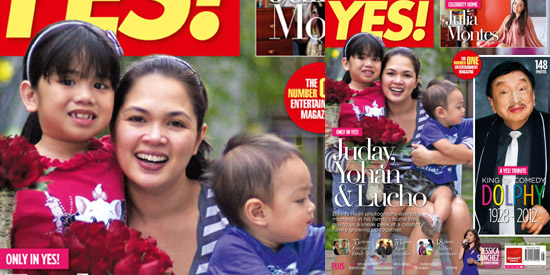 ---
When both parents are big stars, many may wonder how they juggle both parenthood and show business.
This August, celebrity parents Ryan and Judy Ann Santos-Agoncillo give YES! an exclusive look into their family life, with stories of their marriage, their children, their parenting tips, and their adventures together.
All are captured in the nearly 100 photos of the family, taken by the man of the house himself, Ryan Agoncillo.
Ryan and Judy Ann Santos-Agoncillo's family may elicit second glances from onlookers whenever they go out. The family is a high-profile one, what with both parents appearing on TV.
But behind the fame are two devoted parents to daughter Yohan, 7, and son Lucho, 1.
"We enjoy parenting our kids, we enjoy us," says Ryan on how parenthood changed the game for both him and Judy Ann.
The hands-on parents make sure that they get as much family time as possible and find ways to bond with their kids.
Judy Ann would wake up early to prepare breakfast for her family while Ryan would take the time to play with Lucho over video games before leaving for his hosting job.
Judy Ann and Ryan are also firm in teaching their children the value of discipline and responsibility.
Last Christmas, they gifted their daughter with a play area in a nearby lot and named it Camp Yohan. The camp is a full-fledged play area, complete with tent, trampoline, monkey bars, badminton net, and portable swimming pool.
Judy Ann and Ryan want their children to enjoy the outdoors. "Active naman siya [Yohan] to begin with, pero we want to push it further. Hindi 'yong batang stuck lang sa bahay dahil nood lang nang nood ng Nickelodeon o Cartoon Network," says Judy Ann.
Spending time at Camp Yohan also proved to be a great bonding activity between brother and sister.
ADVERTISEMENT - CONTINUE READING BELOW
"Si Lucho at si Yohan, naghahanapan 'yan parati. Every morning 'yan, naglalaro sila. Pero ang tagal na-develop niyan. Ang tagal nagselos si Yohan kay Lucho," says Judy Ann.
Explaining adoption was not an easy thing and Judy Ann and Ryan knew that they should explain the delicate situation well to Yohan.
Aside from agreeing to be partners and respecting each other's decision when it comes to parenting, Judy Ann and Ryan also find time to schedule trips together as a couple.
Last January, the two went on a honeymoon vacation in the Maldives where they celebrated their third wedding anniversary.
The family also went to Japan this year where they enjoyed dining, sightseeing, and shopping.
Find out more about the Agoncillos' everyday family life this August!
YES! also pays tribute this month to the King of Comedy, as YES! looks back on his early life and showbiz career with over 148 photos of the late, great comedian.
Actress Julia Montes graces this month's pages, too, as she takes YES! on a tour of her dream home in Antipolo City.
Click here to get a digital copy of YES! magazine's August issue!
SHARE THIS STORY YES! August peeks into Juday & Ryan's home life, goes inside the new home of Julia Montes, and pays tribute to King of Comedy Dolphy with no less than 148 photos!" data-url="https://www.pep.ph/news/34959/yes-august-peeks-into-juday--ryan39s-home-life-goes-inside-the-new-home-of-julia-montes-and-pays-tri" data-desc="Also in this issue: over 148 photos of Dolphy!" data-image="https://contents.pep.ph/images2/news/c7c4d970c.jpg"> YES! August peeks into Juday & Ryan's home life, goes inside the new home of Julia Montes, and pays tribute to King of Comedy Dolphy with no less than 148 photos!" data-url="https://www.pep.ph/news/34959/yes-august-peeks-into-juday--ryan39s-home-life-goes-inside-the-new-home-of-julia-montes-and-pays-tri" data-desc="Also in this issue: over 148 photos of Dolphy!" data-image="https://contents.pep.ph/images2/news/c7c4d970c.jpg"> YES! August peeks into Juday & Ryan's home life, goes inside the new home of Julia Montes, and pays tribute to King of Comedy Dolphy with no less than 148 photos!" data-url="https://www.pep.ph/news/34959/yes-august-peeks-into-juday--ryan39s-home-life-goes-inside-the-new-home-of-julia-montes-and-pays-tri" data-desc="Also in this issue: over 148 photos of Dolphy!" data-image="https://contents.pep.ph/images2/news/c7c4d970c.jpg">
SHARE THIS STORY
YES! August peeks into Juday & Ryan's home life, goes inside the new home of Julia Montes, and pays tribute to King of Comedy Dolphy with no less than 148 photos!" data-url="https://www.pep.ph/news/34959/yes-august-peeks-into-juday--ryan39s-home-life-goes-inside-the-new-home-of-julia-montes-and-pays-tri" data-desc="Also in this issue: over 148 photos of Dolphy!" data-image="https://contents.pep.ph/images2/news/c7c4d970c.jpg"> YES! August peeks into Juday & Ryan's home life, goes inside the new home of Julia Montes, and pays tribute to King of Comedy Dolphy with no less than 148 photos!" data-url="https://www.pep.ph/news/34959/yes-august-peeks-into-juday--ryan39s-home-life-goes-inside-the-new-home-of-julia-montes-and-pays-tri" data-desc="Also in this issue: over 148 photos of Dolphy!" data-image="https://contents.pep.ph/images2/news/c7c4d970c.jpg"> YES! August peeks into Juday & Ryan's home life, goes inside the new home of Julia Montes, and pays tribute to King of Comedy Dolphy with no less than 148 photos!" data-url="https://www.pep.ph/news/34959/yes-august-peeks-into-juday--ryan39s-home-life-goes-inside-the-new-home-of-julia-montes-and-pays-tri" data-desc="Also in this issue: over 148 photos of Dolphy!" data-image="https://contents.pep.ph/images2/news/c7c4d970c.jpg"> YES! August peeks into Juday & Ryan's home life, goes inside the new home of Julia Montes, and pays tribute to King of Comedy Dolphy with no less than 148 photos!" data-url="https://www.pep.ph/news/34959/yes-august-peeks-into-juday--ryan39s-home-life-goes-inside-the-new-home-of-julia-montes-and-pays-tri" data-desc="Also in this issue: over 148 photos of Dolphy!" data-image="https://contents.pep.ph/images2/news/c7c4d970c.jpg">