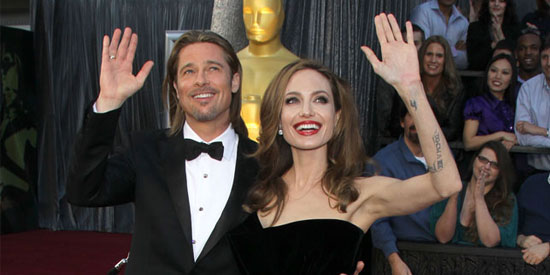 ---
Brad Pitt and Angelina Jolie have sparked speculation that their wedding will soon take place, after they hosted a family party at their French home this weekend.
Guests already at the chateau include Brad's mother Jane and father Bill.
Top jeweller Robert Procop, who made Angelina's engagement ring, is also at the residence.
The event is said to be for Brad's parents' 50th wedding anniversary, but locals think otherwise, and claim there is a "real buzz" there.
A source told The Sun newspaper: "Brad flew in to oversee preparations but they're all here now. They say it's for Jane and Bill, but some think this could be it. Even Angelina's private jeweller is here."
The couple, who met on the set of hit film Mr. and Mrs. Smith in 2005, and have six children, announced their engagement in April.
Their plan has always been to have a small ceremony at their Chateau Miraval home in the south of France.
Brad, 48, recently bought Angelina, 37, a £250,000 watch as a pre-wedding gift.
Their guest list, said to number no more than 20, would include actor George Clooney, 51, who is yet to arrive.
A source said: "George and Brad are best pals, there's no way he'd miss it. He's at his house in Italy, but could fly to Marseille in an hour. There's a real buzz around the estate."