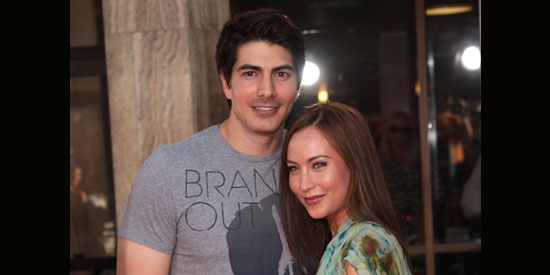 ---
Brandon Routh and Courtney Ford have welcomed their first child into the world.
The Superman Returns actor and his wife—who have been married since November 2007—became parents to a boy, Leo James Routh, yesterday (10.08.12), and Brandon can't stop looking at his newborn son, who weighs 8 lbs.
He told PEOPLE: "We're in awe ... we can't take our eyes off him!"
The couple revealed in March that Courtney was expecting, and they found it hard to keep her pregnancy a secret after everyone on the set of his new series Partners kept asking him about it.
He said: "Everyone on set keeps asking, 'Do you have kids?' And I've had to say, 'Well, not yet!' It's the truth. The baby hasn't been born yet!"
Courtney—who is known for her roles in True Blood and Parenthood—admitted she had used a number of excuses, such as food poisoning and flu, but they only worked "for so long."
ADVERTISEMENT - CONTINUE READING BELOW
She added: "It started getting difficult to hide what was happening. Flu and food poisoning excuses only work for so long, and by the last episode I could no longer button my pants! I just tried to joke that I had a big lunch."