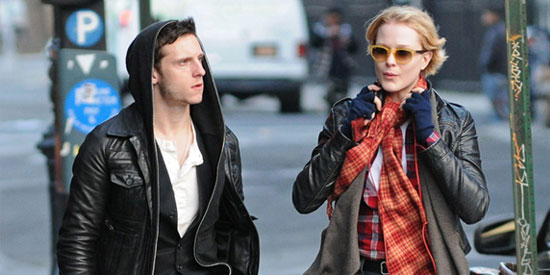 ---
Evan Rachel Wood and Jamie Bell are reportedly set to wed this week.
The couple—who were rumored to have gotten engaged last year but declined to ever confirm the news—was spotted picking up their wedding licence together yesterday (October 16).
A source told US gossip website RadarOnline: "Evan and Jamie were at the Beverly Hills City marriage licence office around lunchtime today.
"I had to do a double take as at first I didn't recognize them. They looked like any other young couple in love.
"They were just waiting in line like regular people, holding hands and at one point Jamie leaned over and kissed Evan—they certainly looked excited and happy!"
The 25-year-old Mildred Pierce actress first started dating the 26-year-old Billy Elliot star in 2005 after they met on the set of Green Day's music video for "Wake Me Up When September Ends" and got matching tattoos but split a year later.
They rekindled their romance in 2010 after Evan ended her seven-month engagement to rocker Marilyn Manson.
Reports first surfaced she and Jamie were engaged in January, two months after she was first spotted sporting an engagement ring on her finger.
A source previously said: "Evan and Jamie were really young and just getting going in their careers when they first met and they just weren't ready.
"Now that they are older and both excelling in their professional lives, I think they feel ready to take their relationship to the next level."
Last year, Evan revealed she is bisexual.
ADVERTISEMENT - CONTINUE READING BELOW
She said: "Yeah, that's a big part of who I am, and it always has been for as long as I can remember.
"I can't say I'm one way or the other because I've honestly fallen in love with a man and I've honestly fallen in love with a woman.
"I don't know how you label that, it's just how it is."