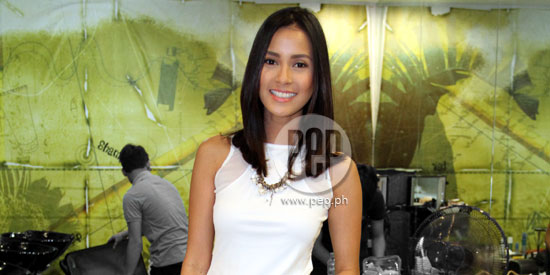 ---
In its October 2012 issue, YES! Magazine listed the Top 20 most influential celebrities on Facebook and Twitter.
Bianca Gonzalez placed second, just behind Lea Salonga.
With 1.8 million followers, Bianca (@iamsuperbianca) is one of the most active local celebrities on Twitter.
She would candidly express her opinions on political issues, share her simple joys in life such as having a Skype date with her godson, Roco, or tweet her random thoughts.
Not surprisingly, she is one of the most sought-after endorsers of her generation.
In fact, PEP.ph (Philippine Entertainment Portal) met her for two consecutive days, one presscon after another for two of the many brands she endorses.
Bianca says she found out about being a part of the YES! list from her followers on Twitter.
We had a chat with her last October 16 for the Pantene Sway and Bounce transformation of Rica Peralejo and Lindsay Custodio at the Bench Fix Salon in Market! Market! Taguig.
"Nag-send yung mga tao ng link sa 'kin, they told me about it," Bianca said about being one of the 20 most influential local celebrities on Twitter and Facebook.
"And wala, I was thankful, it made me realize na nung nag-sign-up kasi ako…
"Do you remember nung nag-contest si Ashton Kutcher 'tsaka si Larry King na parang first one million followers on Twitter?
"Because the only reason I signed-up, 'Oh my gosh,' sabi ko, 'I want to be a part of history, gusto kong mag-vote!'
"So finollow ko si Larry King. E, si Ashton yung naunang mag-one million. So it had no, parang, grand plan na, 'I wanna be this Internet person.'
ADVERTISEMENT - CONTINUE READING BELOW
"Wala 'kong ganun na iniisip when I signed up. Actually, Rica [Peralejo] was the first I know who was on Twitter. Hind pa uso Twitter," she related.
How she came to be the influential 'tweeter' she is right now, is something that just happened, unintentionally.
She adds, "Siguro, kasi me as a person, I'm so passionate about so many things na dun ko lang nashi-share.
"And it's nice to know na so many people, hindi lang pala lovelife o anong inaatupag nila na kababawan. They also like deepness."
IGNORE OR BE NICE. Being influential doesn't mean people will put you on a pedestal. Bianca admits that she gets her fair share of hate tweets.
The diplomatic TV host revealed how she deals with negativity.
Bianca said, "I formed this theory na either you ignore it, kasi when you ignore it, if they know na parang they're not getting to you, they'll eventually stop.
"Or be nice to them. Parang, 'Ah, ganun ba? Sige, thank you.' Ganun na lang.
"Pero it depends on your mood, e. Sometimes pagod ka na, makakabasa ka pa ng nega. Di ba parang, tao din ako! Yung may ganun kang feeling. Yun.
"But basically, those two have worked. Either you ignore or you just be nice," she concluded.
SWEET TWEETS. Bianca's boyfriend, San Mig Coffee Mixer's JC Intal, is also active on Twitter (@jcintal7) with more than 40, 000 followers.
The couple's followers are witnesses to their affectionate tweets for each other and their occasional posts of sweet snapshots together.
ADVERTISEMENT - CONTINUE READING BELOW
Bianca explains, "I'm not the PDA type talaga.
"And on Twitter naman parang I've seen other couples that are even sweeter, na super cheesy na, super upload ng pictures together. We're not like that, di ba.
"And sometimes, yun, kapag may game or like, may something to be proud of, you just post it.
"I know it's something na you can text naman or you can tell him personally. But, wala lang. Puwede rin naman sa Twitter, so, why not?"
At 29, Bianca says she is now more comfortable discussing her lovelife and she affirms that she is very happy with her current relationship.
Are they planning to get married any time soon?
"No, not at all because, ano, we actually just met two years ago. And we've been together officially, siguro over a year pa lang.
"Siyempre when you're younger you have an ideal age but then when you get to that ideal age, tatawad ka pa ng more years, and then more years.
"So parang, like Lindsay said kanina, you know what, siguro in God's time. Yun.
"Whether you're religious or not, they say you'll feel it, e. So pag na-feel ko, babalitaan ko kayo."
But does she think that JC is "the one"?
"It's hard to answer that question kasi I've had relationships in the past na I'd say, 'oh my god, eto na yun!' You say it, e.
"And parang for me, it's so loosely used kasi I've used it in the past tapos I got my heart broken lang. So, I don't like saying it 'cause I don't wanna jinx it.
ADVERTISEMENT - CONTINUE READING BELOW
"And instead, parang, I choose to see it as parang happy ako na we seem, JC and I seem like we're at the same point in our life na, you know, working to save money, trying to establish a good career na baka puwedeng, kumbaga, not necessarily as a couple but for ourselves, na parang, mas stable na kami.
"Kasi it's only when you're stable that you can really get into marriage. You can't really get into marriage na parang hindi ka pa kumpleto, hindi ka pa stable.
"You could be like depending on the other person. So we're both, I think, working for the same, yun nga, point in our lives na you can say na, we're financially okay, emotionally okay. Yung ganun."
REVISE, NOT REPEAL. Being very active in social networking, what is her stand on the controversial Cybercrime Prevention Act of 2012?
"Like a lot of people, not 'no' but just revise the libel part. I tried to read it, it's so technical for me. Parang hindi ko maintindihan yung mga lawyer…
"Siyempre good yung mga laws against child pornography, human trafficking. Siyempre talagang high-time na na gawin yun.
"Parang napapanood mo lang sa mga CSI but it really happens.
"So, dun sa libel, kasi nga like I always say, traditional media is so different from new media.
"Hindi pa nga natin naiinitindihan yung new media, how can you make a comprehensive law about it. So I think naman inaayos nila.
ADVERTISEMENT - CONTINUE READING BELOW
"And oddly, ironically, it's because of the medium they're trying to censor na nangyari na, feeling ko ah, that the TRO was like, na-pressure sila.
"Even the senators were like, bino-bombard din sila sa Twitter to take a second look at it.
"So, ironically, the medium na pinapaano nila is the one that helped it get the attention it needs," she muses.
In our October 17 interview with Bianca, as she was launched as the newest brand ambassador or My Globe Rewards, she added,
"The tricky part nun was the libel na diumano, cut and paste from traditional media laws, which is for me, dapat irevise.
"Kasi it's a totally different dynamic, e. New media to trad. Sobrang hindi mo alam kung ano yung gumawa nung spam account. Yung parang the rules, really, are so different.
"So for me, you can't exactly apply the same law. You have to at least study first the structure of new media, make more effective, applicable laws," Bianca said.
LIBEL CASE. We also asked her for updates regarding the lawsuit which Amalia Fuentes filed against her.
She replied, "I don't really know the status or the levels of what it's at.
"The most recent thing I did which was a month ago, was... swear in my statement, my counter-statement.
"So that's it, basically. And then from there i-a-update na lang ako nung lawyer. But they say the next step is parang the court will see if yung nasulat has malice intended which is hard to prove.
ADVERTISEMENT - CONTINUE READING BELOW
"Lalo na in my heart I know na I wrote it with no malice. So they assure me na, parang, 'Bianca, don't worry about it.'
"The whole process ang dami kong natutunan. Nakapunta 'kong QC RTC, nakita ko yung itsura."
Bianca was charged by Amalia Fuentes with libel after her article "Love, Laughter & Intrigues with Eddie & Annabelle," came out last February 12, 2012, in her column "10 Things You Should Know About" for the Philippine Star.
(CLICK HERE to read related article.)
Despite Bianca's apology, the former movie queen pushed through with the case.