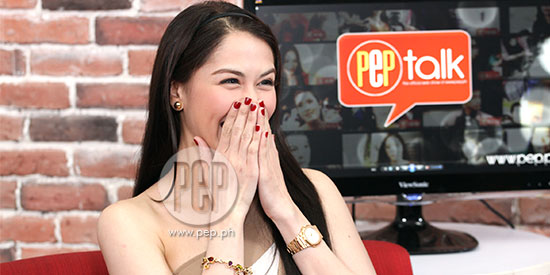 ---
It's the Christmas season once again and we know exactly the right way to spread cheer for you—a video special!
We've been showing you PEPtalk episodes since June of this year and we know that you've enjoyed our interviews with the stars. If you've already watched most episodes, you'll notice that discussions with our guests are casual; we just let them be themselves and in turn are rewarded with some great highlights.
And by highlights we mean hilarious moments, like the one where Dingdong Dantes commented about videotaping himself doing his special talent or the Gonzaga sisters (jokingly) criticizing each other on cam.
How about the one where Regine reworded our host's question about her and hubby Ogie Alcasid's "efforts" in having a baby? You'll see it only here in PEPtalk!
This is where our video special comes in.
It's a drag for you guys to open all our episodes on our YouTube channel just to watch those candid scenes, but despair not for we've sifted through our video files to bring you clips that had the people on the set laughing.
Some the selected scenes are never-before-seen and we've purposely unearthed those clips for your entertainment!
So, behold this precious gem of a video for it may be long before we release another one like it. Share with friends, like, and make sure to subscribe to our channel. (CLICK HERE)