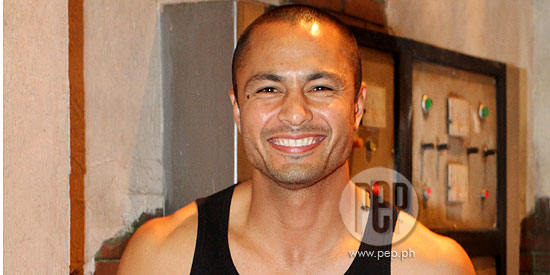 ---
From drama to action, hunky actor Derek Ramsay is now shooting scenes on rooftops and a grimy talyer where he gets to do non-stop action.
His male-envied and female-killer six-pack abs and robust muscles have finally found their rightful setting.
Derek is all set to star as Kidlat, TV5's newest teleserye superhero, who accidentally acquires his special power when a "rare" storm hits the place he comes from.
During a visit made to the set of Kidlat yesterday, December 17, at the TAPE studio, Central Business Park, Manggahan, Pasig, the Kapatid actor along with co-stars Nadine Samonte and Baron Geisler had the chance to relay their latest adventure to the press.
Coming off from a take, a beat but happy Derek said that he has already shot a number of superhero scenes and that the Kidlat staff is deep into production, taping three times a week.
He told that they had finished taping the premiere of Kidlat, a 90-minute film that takes the audience right smack the plot where Derek's human character, Voltaire, has obtained his power.
It will be aired on January 6, 2013, a Sunday night.
The actor informed too that as soon as Kidlat unfolds during its regular weeknight schedule, its plot will delve into the superhero's backstory.
"Yung teleserye will explain kung paano ako naging Kidlat, kung pano ko nakuha yung powers. And then mag-e-evolve na yung buong story."
BILLBOARD UNVEILING. The public first saw Derek wearing his superhero suit last Sunday night, December 16, concurrent with the unveiling of the series's billboard mounted along EDSA Guadalupe, Makati.
The actor, suspended by harnesses, was reported to have flown over the massive billboard as proudly donned his blue and yellow suit, with half of his face concealed by his mask.
"Pinakamalupit na ginawa ko sa buong career ko sa showbiz" was how Derek described it.
ADVERTISEMENT - CONTINUE READING BELOW
"Feeling ko talaga, superhero ako nung tumayo ako dun!
"E, sabi nila, 'Game ka ba … gawin yung ganung klaseng bagay?' Sabi ko, 'Ako pa?'"
He raved about it some more: "Ang tagal ko dun na pabalik-balik sa taas ng billboard. Tapos kita ko yung traffic. Kaya nang nag-tweet ako ng 'Thanks for the support and also sorry for causing traffic.'
"Andun ako sa ibabaw, may smoke. Talagang ramdam na ramdam ko na superhero ako!
"Especially yung traffic, kita mo yung mga lights, [I thought,] 'I will save all of you!'
"Gusto ko nga tumalon, e!" Derek said, reliving the moment.
KIDLAT THE SUPERHERO. How exactly does this fictional Filipino hero differ from the rest of the crime-busting characters the Filipino audience has come to know?
Derek answered, "He's very endearing. Kita mo naman sa billboard sa Guadalupe. Hindi siya malinis.
"He has a lot of weaknesses more than strength, actually. So yun ang makikita ng mga tao."
The actor said that unlike other superheroes who originate from an alternate universe or some unknown planet, Kidlat is pretty much an ordinary person.
"I think the people will be able to accept him kasi normal lang siya na tao," Derek offered.
While the actor admitted to the difficulty of portraying a superhero, he said he received advice from one of the men responsible for the costumes used in the graphic novel turned film, X-Men.
Derek conveyed, "They flew him in here, he loved the concept of Kidlat. And he helped the team here build a costume."
After Kidlat's suit was made, the guy gave Derek the same advice he relayed to the other Hollywood actors: "Don't let the costume or the suit wear you. You wear the suit. That's why a lot of superhero films or shows flop because they let the suit wear them."
ADVERTISEMENT - CONTINUE READING BELOW
While he vowed to keep that in mind, Derek jokingly shared, "That's why nung nasa taas ako ng billboard kahapon, nag-Gangnam ako dun! Nag-Gangnam ako on top of the billboard!"
NO PRESSURE. Considering the efforts that TV5 is investing on this project, does Derek feel pressured to deliver?
The Kapatid star initially stated, "I have no pressure because I'm having so much fun. Nag-e-enjoy talaga ako gawin ito."
He said it helps that he trusts the staff, his director, and his co-actors Baron Geisler, Nadine Samonte, and Ritz Azul.
He added, "Tignan mo naman yung set namin, o, ang ganda. Yung unveiling, I've never experienced anything like that for any project!"
STANDING UP FOR TV5. At one point during the interview, Derek addressed an intrigue he is being hurled at the moment.
The actor started, "I'd been hearing a lot of stuff na pabagsak na daw career ko, [na] wala naman [daw] nagagawa sa akin ang 5.
"But that's not true. 5 is giving me everything that I wanted. Talagang they looked into who I am: 'Ano ba ang talagang gusto ni Derek?' And they've given me projects with that."
He continued, "Sabi nila laos daw yung Olympics namin kasi hindi naman ako nakita." The actor was referring to TV5's grand coverage of the London 2012 Olympics from July 27 to August 12 this year.
Derek clarified, "Sadya naman yun kasi the Olympics is every four years and the Olympics is a sporting event where we're supposed to support our athletes. Not me.
"I'm there to support them. I'm there to bring back the news. I'm not there are as an artista. I'm not there as anything else.
"I'm just there to support my fellow Filipinos who were competing, who invested their four years of training just to bring some pride back home to the country.
ADVERTISEMENT - CONTINUE READING BELOW
"So, ang sakit para sa akin na pati yun sinasabi tungkol sa akin," he stated.
Derek likewise voiced out his distress over nasty comments regarding his stint in the recently-concluded season of The Amazing Race Philippines: "Sabi nila, hindi man lang naramdaman, kasi shinorten [shortened]."
The actor pointed out, "You can't shorten Amazing Race kasi it's a competition. So, it was designed that way.
"An international group was here who did it, who designed it that way. It wasn't re-shot kasi may panalo na.
"So, that's the truth."
Despite these, Derek finds a reason to keep optimistic: "Now ito, [may] bagong teleserye. I'm really excited to start 2013."
COOL CO-ACTORS. Apart from the challenge of taking on a superhero role, Derek is happy with his current project because of the people he gets to work with.
"The cast is cool! I get along with all of them well, " he remarked.
Baron, who plays Kidlat's arch enemy, the mad scientist Vincent Megaton, has become a close friend of Derek.
"Baron is like my new little brother who I'm guiding," said the 33-year-old hunk.
He added, "I said this before, [nung] nag-umpisa kami ng Kidlat, na he's one of the most talented actors out there today.
"And he doesn't take offense na sinasabi ko na nao-off track siya minsan," said Derek not hesitating to imply his co-actor's drinking problems.
Derek places his faith in Baron's road to full recovery.
"Oo. Magaling siya talagang artista. Ang problema lang sa kanya is if he'll stay on track.
"And now, I really think he will stay on track."
Prodded to expound on that last statement, Derek said, "He's got his issues. We all know that.
"And sometimes it's kinda mean na alam na nating may problema, ine-expose pa natin siya dun.
ADVERTISEMENT - CONTINUE READING BELOW
"Ang kailangan ng tao ay tulong and that's what I want to give him."
Working with Baron, said Derek has been fulfilling.
"Ang gaganda ng mga eksena namin kasi intense akong actor, intense siyang actor at ang sarap…"
Derek added, "And there's no sense of competition. Talaga we're here to make a good show and he's here to prove to everybody that he's back."
LEADING LADIES. During the set visit, it was obvious how Derek has created a bond with his co-actors.
Nadine, who plays, his character's first love Lara, has become the target of his teasing.
Derek said in an amused tone, "Kasi pakinggan mo tumawa si Nadine. Nakakahawa!"
Their working relationship has boundaries that keep their personal lives private.
The actor commented, "I'm not going to intrude unless she needs to talk about it…
"But she seems very happy, she's always laughing and she's in a good mood in the set."
Derek further said, "Masarap naman talaga pag masaya yung kasama mo. Nag-aasaran.
"Marami akong pangalan para kay Nads: 'lola,' minsan para siyang lola. Tapos 'cow' kasi 'ikaw.'
"Lahat kami may pangalan, pati si Baron!"
Admitting to being the "teaser" on the set, Derek told, "Lagi akong ganito sa set kasi stressful hours na tapos hindi pa naman kayo mag-uusap-usap, ang pangit naman. Mauubos ka talaga.
"So ako, I like to talk. I like to talk to people who have something to share."
Derek likewise mentioned that he and his co-actors eat out on lunch breaks and play badminton like they did last Sunday.
Ritz Azul, FHM's December cover girl, also plays one of Kidlat's leading ladies. Her character is Joey, tough cookie who also becomes the love interest of Derek's character.
Derek described his young co-actor: "Si Ritz grabe mag-transform sa harapan ng kamera. Kasi she's only 18 and you can really feel na 18 years old lang siya pag kinausap mo.
ADVERTISEMENT - CONTINUE READING BELOW
"But pag umarte na, transformation. Gaya ng FHM [cover] niya."
The actor confessed that while he possesses a copy of the magazine— which was just given to him at a photoshoot— for some reason, he cannot find it in himself to browse it.
He explained, "Sabi ko baka hindi na kami makapagtrabaho. Grabe yung hitsura niya dun. Sexy…"
Pushed to expound on his last thoughts, all Derek could say was, "Hindi, kasi pag nakita mo [siya] naka-Skechers, bagets talaga!
"Pag nakita mo dun, pag nakita mo umarte, ang galing niyang mag-transform! She's really talented."
Finally asked to comment on just the cover, the actor remarked: "Vavavoom!"