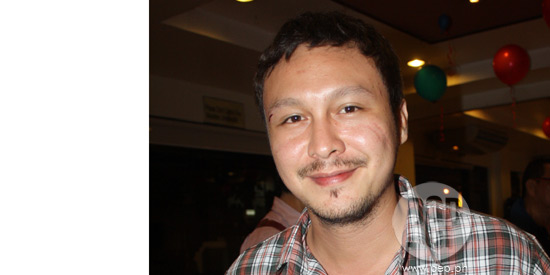 ---
"For me, walang issue."
In a voice calm and devoid of any emotion, this became the gist of the PEP.ph (Philippine Entertainment Portal) phone interview with Baron Geisler, who returned our call at past 2 a.m. today, December 19.
Accompanying his statement with what sounded like a forced laugh, the controversial actor flatly denied all allegations.
He began, "I don't know. I really don't know, e. Bahala sila. Bahala silang magkalat ng issues."
Once again, all eyes are on Baron.
This time, his reported transgressions include calling IC Mendoza "cheap," confronting and cursing Edgar Allan Guzman for not "respecting seniority," kissing Divine Lee, and snatching the microphone from a TV5 entertainment reporter.
All these incidents happened on December 17, at the MVP Ball, Meralco compound, Ortigas Avenue, Pasig City, where two sources of PEP.ph (Philippine Entertainment Portal) witnessed what he did, and pronounced that he was under the influence of alcohol.
(CLICK HERE to read story)
WAS HE DRUNK? Baron was quick to say: "I don't believe so."
Still during the PEP phone interview, he said: "Bahala na lang sila. You know, I do something nice. People will suggest other things. You know, it's fine."
However, the three celebrities involved were one in saying he did them wrong.
Still, Baron maintains that the whole thing is a "non-issue."
For the second time during the phone interview, he said: "I don't know. You let people talk about me. Ganun na lang.
"People like to talk about me. People like seeing me. I'm like a novelty item for them, e.
"Once Baron is there, there's an issue.
"But there's no issue talaga. There's no issue. They just like to talk about it."
WHAT WAS HIS MOOD AT THE BALL? Baron answered, "I was happy."
ADVERTISEMENT - CONTINUE READING BELOW
The following night, December 18, he said he even rang up some of them.
Baron related, "Nakausap ko yung iba sa kanila, plastic naman sila.
"Like, Edgar Allan, I called earlier. Kaya lang nga, he said everything was okay.
"So plastic na lang sila. Naninira lang sila. Siguro, they don't have my career right now, so gusto nilang sirain.
"I have a good career right now. So, ahm, ewan ko sa kanila, gusto nila akong sirain, so tahimik lang muna ako."
But why would they do that to him?
Sounding unaffected by the issue, the Kidlat co-star continued, "I'm hurt actually. They make up stories. People like to make up stories. Yun lang.
"Go ahead. Go ahead. Yun lang. Go ahead. Thank you. Merry Christmas."
WOULD HE CONSIDER GOING BACK TO REHAB? He paused for a few seconds before politely replying with, "Ma'am, that's an insulting question."
We told him that this wasn't the intention of the question, and that PEP merely wanted to know if he's doing something to speed up his recovery from "chemical imbalance"—which, according to PsychCentral.com, "causes major depression."
Baron picked up, "Don't you think I'm trying my best to get better?
"I'm trying my best to get better to fix things, and, like, working with Channel 5 right now.
"I think, the best thing is give me a job, sign me a contract, and I'll be better. And stop the nonsense controversy about me. I mean, tama na!"
At present, his medication is ongoing.
Just before ending the interview, he took the chance of thanking a person who he says has been inspiring him.
"Pakisabi na I thank Derek Ramsay for being a good kuya because he's guiding me really well sa set ng Kidlat.
ADVERTISEMENT - CONTINUE READING BELOW
"He's a really a good person and he is helping me reach my dreams.
"He is really guiding me."
How about a message for Edgar, IC, and Divine?
Baron dropped two expletive Tagalog words three times, before adding, "I was just joking."
His tone was neither angry nor happy.
The TV5 talent added, "Kung matino silang tao, lalo na't malapit na ang Pasko, hindi sila maninira ng tao. Lalo na't party, hindi sila gagawa ng ganyan."
Lastly, why would the three Kapatid stars fabricate such stories?
"I don't know, Ma'am. You think about it. Actor who's tahimik lang, who wants to get better, and may naninira?
"You go around the edges. Tignan niyo. Isipin mo, 'Ano kaya?' And then balikan mo ako siguro," he said, without a tinge of sarcasm.
But, even with three other fellow entertainers saying he did them wrong, he didn't sound a bit chastised either.