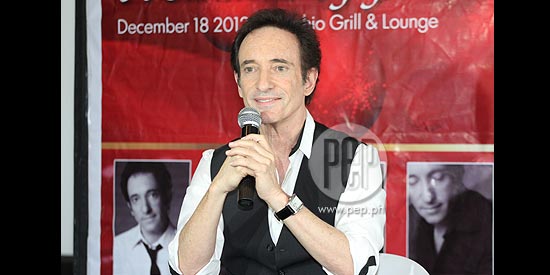 ---
The song "Born for You" has been a part of many Filipinos' music favorites since 1999 when it was a big hit.
International multi-platinum singer-songwriter David Pomeranz, who sang that hit song, is back in Manila on a series of shows for his new album titled You're The Inspiration.
In an interview with PEP.ph (Philippines Entertainment Portal) and other reporters at Cerchio Grill and Lounge, Quezon City last December 18, at the presscon of his newest album, the singer shared why he keeps coming back to Manila.
Coming back for more. "The very first time that I came here, there was a phenomenon in the malls— we don't have [mall concerts] in the States, and they said to me 'You will sing in malls' and I went, 'What?'
"They told me to trust them for it will be great.
"So we put up a show in the mall and there were 10,000 people there and that's the memory, the first memory, that's why I keep coming back for more."
David added, "So fantastic, so amazing, so unusual, actually it's one of my favorite things when I come back here.
"I now love singing in the malls, I can see everybody's face, singing together.
"That's my very first memory of being here.
Now David is back promoting his new album with a series of shows in different venues nationwide. The singer says it will be a busy vacation for him.
"We're packed with things to do. One of the things we're doing here is that I am doing a series of tours in small venues like 500 to 1000 audience capacity, so it's very intimate.
"I am doing it just by myself as a soloist, so I am doing tours and some concerts as well. Then on top of that is my album."
ADVERTISEMENT - CONTINUE READING BELOW
David wants to give his Filipino fans an album that is not just inspiring but uplifting as well.
You're the Inspiration. David explains, "Because of the song, obviously, but what I want people to feel lifted when they listen to it.
"I think all the songs, if you'll listen to what they have in common, they give you this "lift."
This is the first time that David does an all-revival album.
"It's different because I didn't write any of these songs," explains singer-songwriter David Pomeranz.
"Whenever I make an album I try to put my heart and soul in whatever I am doing.
"So if I can do that with these songs that will be something beautiful.
"That could be very beautiful, so it's an experiment
"I have never done anything like this before, but I think it works, it's a feel-good album."
How did David choose the songs in his album?
Favorites in his album. "The idea was, for all those years I've been coming back here, one of the most that I enjoy here is people singing along with these songs.
"So I thought of the songs they already know and love that I also love
"And put those together, put my voice on top of the songs that you already know, so that was the idea of putting it out together.
"And these are songs that I always loved hearing on the radio, these are the songs that I would turn out loud, like "Nothing's gonna stop us now" from Starship and "You're the Inspiration," and songs by Mr. Big "To Be with You" and "Search is Over."
"That's the idea behind the album, it's a fun project which I think the Filipino pop culture will enjoy."
ADVERTISEMENT - CONTINUE READING BELOW
David also shared his favorite songs in the album.
"I think it could be the "Search is Over". I've always loved that song, I admire how that song was written.
"There's also this song that I was not familiar with, it's the song "What Matters Most". When I heard it I was moved, and it became one of my favorite tracks from the album as well.
Meeting Manny. David Pomeranz reveals he is a fan of Manny Pacquiao.
Before he joined the press for his album's press conference, he was in General Santos City celebrating Manny Pacquiao's 33rd birthday.
David said his trip to GenSan was "Thrilling!"
"We [David and his wife] never met before but we met Manny on the plane.
"I was there last night on his birthday party, he invited almost everybody and he gave everyone some gifts.
"And I told myself 'these people are lucky' not only because he's a superstar, or a champion but because they love him.
"Everybody was wishing him well. I can see why. He would speak to everyone, he's very generous.
"He's a very sweet man, very pure and honest for his love for the people.
"I think that is why people love him back because he's very, very generous.
"He would give money, prices and gifts; he's laughing and happy doing it."
When asked if he's a fan of Manny Pacquiao, he replied instantly, "Oh yes! You know what's interesting about him? He's an artist in the ring just like Mohammad Ali.
"They are both fighters, they are like a machine.
"Manny is very specific like an artist, like a painter, or like a songwriter.
"He looks and he takes his chance at the right time, he's a very alert person.
ADVERTISEMENT - CONTINUE READING BELOW
"Smart, alert, artistic person and to see that on the ring is very rare and that's what I see in him as a boxer, very unusual."
Christmas in the Philippines. It's David Pomeranz's sixth visit and he is excited to eat lechon, cassava cake and ube ice cream this Christmas.
"I have spent Christmas in the Philippines, I guess 4-5 times already with my wife and I before our son was born. She would come with me every trip and would spend Christmas here.
David also shared what he loves most about celebrating Christmas here. "The parols are unique to me, they're beautiful and the city lights gives a very Christmas feel.
"What I love being here at all is the warmth of the people, that's why I come here and the people are all jolly.
"It's a perfect place to be in Christmas time.
Celebrate Christmas with David by watching his shows at the Heritage on December 19, Airport Casino Filipino on December 20, Pavillion on December 21, Iloilo on December 22, Angeles on December 27, Olongapo on December 28 and Tagaytay on December 29.