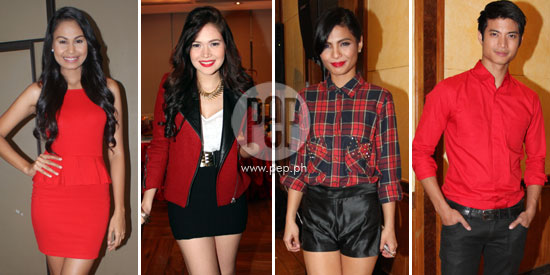 ---
Another year has come and gone. For celebrities, it's the perfect time to look back at the year that had just passed and evaluate their careers.
How did 2012 go for some of your favorite stars? Lovi Poe is relieved; Venus Raj says this year was her sweetest; Bela Padilla described her year as spicy; and Mikael Daez said it was a whirlwind.
LOVI POE: "I'm just happy."
Best 2012 moment:
"Well, I think, nung binigay sa 'kin yung character ni Natasha sa Legacy.
"It's by far, my most favorite, yung favorite character ko talaga. Siguro yun yung best."
Looking back at her personal life, how was the past year for her?
"Well, I'm just happy that…was it this year? Basta, everything was better na.
"Siguro nakahinga na 'ko nang maayos nung wala na muna 'ko masayado iniisip.
"Kasi I know that the person I was with is already safe, is in a good place already. Ganun."
Lovi was referring to her ex-boyfriend Ronald Singson.
Specific goals for 2013. Maybe an acting award?
"Well, when it comes to that, I don't want to ano, e…I don't wanna keep daydreaming or dreaming about it.
"Siguro, I'll just do my best na lang sa kahit ano. Of course, lahat naman yun yung pangarap. But I just don't think of it [awards] that much."
What does she want to achieve in her career this coming year?
"Madami. I wanna do more good projects, play good characters, do really good movies.
ADVERTISEMENT - CONTINUE READING BELOW
How about her heart? "Ayun. We'll keep it that way," Lovi said.
VENUS RAJ: "SWEETEST"
How would you assess your 2012?
"2012, actually, I would say, maybe this is the sweetest year.
"Naks! Sweetest naman talaga! Kasi, uhm, I had a lovelife this year. It's a secret.
"And then, sa career, I think, hindi na 'ko yung, unlike before, nung bago lang ako sa trabaho ko, medyo nangangapa na parang ang hirap ng trabaho.
"Pero now, gamay ko na siya. Alam ko na kung papano ang pasikut-sikot, kung papaano yung trabaho ko talaga.
"So sanay na 'ko, sanay na 'kong gumising nang alas-tres ng madaling-araw.
"It's not so hard na for me this year. So I think ano lang siya, free-flowing na relaxed lang.
Highlight of your 2012?
"Highlight this year? Oh, I started na my house in Bicol, that I'm building!
"Actually, parang nag-start siya, late 2011 pero papasok na nang 2012. And then 2012 hanggang sa ngayon, under construction siya.
"Tapos na yung interior, tapos na yung exterior, parang ano na lang, yung mga gamit sa loob, yung bakod. Ganun na lang. So malapit na.
"Hopefully, before 2013 or first few months of 2013.
Goals for 2013:
"First is, na matapos yung bahay namin.
"Pangalawa siguro, uhm, maybe siguro, mas magandang trabaho, mas maayos na trabaho, for my career.
"And I think this is the most important, yung personal relationship ko with the Lord.
"I think it's something that I really want to cultivate. Kasi parang, these past few years, dahil sa trabaho, dahil sa lovelife, dahil sa pamilya, parang nababalewala.
ADVERTISEMENT - CONTINUE READING BELOW
"So this 2013, I really wanna practice it again and mas stronger relationship."
BELA PADILLA: "SPICY"
How would you assess your 2012?
"I think 2012 for Bela was very spicy. It's something I'm not used to but I can like.
"So I was able to do things this year na I thought I wouldn't do.
"But the outcome was good. Parang, I was happy with the outcome…very, very, happy actually, with everything that I achieved this year.
"And I hope lang, it gets spicier and spicier every year.
What do you look forward to in 2013?
"I wanna try a fantaserye, you know. I've never done a fantaserye before.
"So I wanna try something light. 'Cause in Magdalena, like I said, we do 75 sequences a day and in all of them, I'm crying, if you get to watch the show.
"So, sana something light. Sana a comedy, a sitcom, something like that."
Highlight of your 2012?
"Uhm, doing Magdalena, this is the best part of my year.
"You know, when I'm given a project, we have one or two highlights dun sa show.
"In Magdalena, I've done so many scenes that I'm very proud of. Yung tipong itatago ko sa archive ko, yung ganun.
"Yung video na yun, ipapakita ko sa mga apo ko, ganun.
"E, usually, in one show, I get one or two of those. But here, I get one every week.
"So, I'm just really thankful to everyone from Magdalena and GMA for giving me this experience kasi it's such a heavy show.
ADVERTISEMENT - CONTINUE READING BELOW
"I get to showcase a lot of, you know, styles and even I'm surprised I have.
"So, parang they really pushed me to my edge."
Anything you would leave in 2012?
"Not really. As much as possible, I'd like to take everything with me; the lesson, all the memories.
"This has been such a great year for me. I'm not really the type of person who thinks of things negatively.
"So everything, I think I can take something from. So, no, nothing to leave behind.
MIKAEL DAEZ: "WHIRLWIND"
How would you assess your 2012?
"It's a whirlwind 2012. It was an amazing, blessed year for me.
"I exceeded my expectations for this year. I didn't think things were gonna fall into place this well, and more.
"So I'm very happy with what happened. And, it's a good jump-off point for 2013.
"But that also just means that expectations for myself are higher, I have more goals, higher goals.
"So, it's a give-and-take situation but I hope I get to put in as much work as I did this year, next year."
Highlight of your 2012?
"Sana Ay Ikaw Na Nga. Sana Ay Ikaw Na Nga is definitely a highlight dito sa GMA.
"I'm super happy with my Centrum project. Those two things really, really made a mark this 2012.
"When you talk about 2012, it's just gonna be those two things, pretty much."
What do you want to improve on next year?
"Well, I'd like to improve on everything. But specifically for 2013, I have certain goals.
ADVERTISEMENT - CONTINUE READING BELOW
"So, physically, I have a goal. I have to improve on that.
"In terms of my craft, acting, hosting, and the auxiliary singing and dancing, I definitely want to improve on that and show that I improve in the coming projects.
"Hopefully, there is a next project come 2013. So that would be my main goal. I would want to improve in acting.
"I want to be able to prove my worth in hosting. I hope that opportunity comes soon.
"And I want to be able to help, I want to be able to help my fellow Filipinos."
New Year's resolution?
After pausing to think he confessed, "Apparently, not.
"Pero, I guess, I would like to be able to… One, just one off the top of my head, I would like to be able to help out in a foundation or maybe start my own foundation.
"Although starting my own foundation sounds very, very, stressful.
"Maybe help out and be very active in one foundation that I can truly support and something that I truly believe in.
"I think that's one thing I wanna do next year."
On his chosen advocacies, "Well, I want it to revolve sana around education and health. 'Cause those are things that are close to me.
"And it's things that I live out. So, parang I'm being very truthful when I support them."