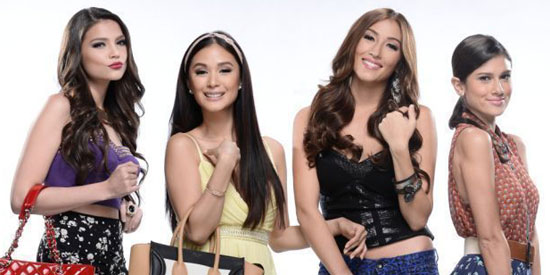 ---
What I know about GMA Films's Sosy Problems is that it is supposed to a comment on the lavish and inconsequential lifestyle of the "nouveau rich," or more un-popularly known as the "coños" of our society.
This group is characterized by consumerism, vanity, and an annoying improper usage of the English and Filipino language (e.g. make + luto/tulog/tusok).
While Andoy Ranay's film succeeds in creating clear-cut characters that walk, talk, move, and breathe like the so-called "super duper upper class," Sosy Problems unfortunately forgets that it should be a parody—that it's supposed to poke fun at the frivolities of the coños, comically expose their nonsensical everyday drama, and perhaps redeem them at the end of the film.
What it does instead is indulge the glamour—which is the only commercial value of the film, especially for fashionistas—and drown out the heart of the story.
It makes sense to put together four showbiz "It" girls— Heart Evangelista, Rhian Ramos, Solenn Heussaff, and Bianca King— to play rich, spoiled brats with no better goal in life than to maintain their social status and flaunt their branded wardrobe. In fact, all four of them look stunning in each scene, even when they are perfectly role-playing their annoying ditzy characters.
The casting is certainly not off the mark because the four actresses chosen look the part, but the problem with Sosy Problems remains this: the plot seems to neglect what should've been the film's satirical motives.


(CLICK HERE to read the complete review on PEP's microsite on the Metro Manila Film Festival)