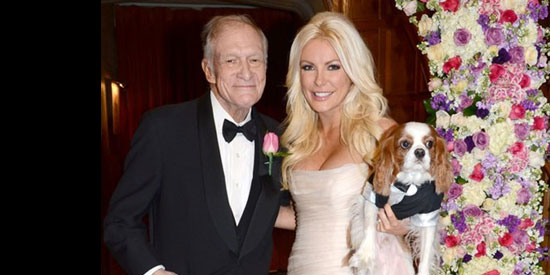 ---
Hugh Hefner finally married Crystal Harris on New Year's Eve (December 31)—six months after she called off their initial wedding.
The Playboy magazine founder tied the knot with the blonde beauty at his Los Angeles mansion on Monday.
After the nuptials, he took to Twitter to share the happy news with his fans.
Hugh—whose brother Keith Hefner acted as the couple's best man—tweeted: "Crystal & I married on New Year's Eve in the Mansion with Keith as my Best Man. Love that girl!"
He then posted a picture of him and Crystal with their dog Charlie, who was dressed up for the occasion in a mini tuxedo.
Following the nuptials, guests were treated to a lavish party where they all stayed to see the new year in.
Crystal, 26, also took to her Twitter account to talk about the day and was thrilled with the musicians they had hired.
She wrote: "The harpist and flutist did an amazing job last night. They played 'As Time Goes By,' 'Because You Loved Me,' 'Somewhere Over The Rainbow,' and 'Chasing Cars.'They continued to play through the night as guest arrived for the big annual NYE party."
The couple recently rescheduled their wedding just months after Crystal left Hugh shocked when she called off their marriage five days before they were due to wed in June 2011.
Hugh, 86, recently said he wants to stay with Crystal until he dies and insisted he doesn't care about the 60-year age difference between them.
ADVERTISEMENT - CONTINUE READING BELOW
He tweeted: "The dramatic age difference between difference & Crystal & me really doesn't matter. Whatever time I have left, we want to spend together."
Hugh has been married twice previously, to Mildred Williams from 1949 to 1959 and Kimberley Conrad from 1989 to 2010.
Playboy magazine founder