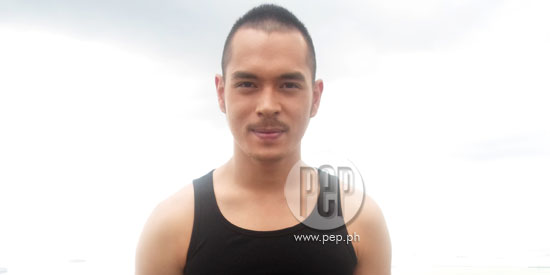 ---
The Love month is fast approaching and one of the most eligible bachelors in town doesn't have a plan for Valentine's Day yet.
That's what Jake Cuenca told PEP.ph (Philippine Entertainment Portal) in an interview last Tuesday, January 29.
The 25-year-old actor said, "No plans yet, actually, 'cause my schedule's kind of busy."
Does he usually look forward to Valentine's Day?
Jake replies, "When I'm in a relationship, it's not a day that I can see for myself but a day for my partner.
"When it comes to Valentine's Day, if I have a girlfriend or if I'm dating someone, I make it more of her. Parang, it's mostly about her."
NO TO COURTSHIP. As if being good-looking and famous weren't enough, Jake relates how he makes a girl fall for him.
"Before, when I was younger, uso yun, e, yung nanliligaw. I mean, you really have to court a girl.
"But later on in life, I figured out na parang, the courtship thing, I don't really believe in that.
"Kasi I feel as if na you put one foot forward and once you're in a relationship then that's the only time na you really see the person's real color, personality.
"So what I do is I try to be friends first. And, you know, pakiramdaman na lang kayo if you guys like each other and everything.
"But at such point na it's obvious, that's when I'll really tell a girl na I like her."
ADVERTISEMENT - CONTINUE READING BELOW
HOPELESS ROMANTIC. Jake really goes out of his way to make that day special for his partner.
He says, "I'm a hopeless romantic that way. I do a lot of effort for girls.
"And when I'm really into someone, there's no limit to the things that I can do.
"It's something na, when I was a kid, I would watch it in movies and it's something na I wanted to do in real life.
"I love giving gifts, that's one. And at the same time, I love surprises, e.
"I don't like it when they surprise me. But I like doing the effort of coming up with a big surprise for someone."
When asked what the sweetest thing he has done for a girl was, Jake recounted with a smile, "Uhm, there's this one time, I booked an events place…
"A whole events place and I told her that my uncle, there's a family party and I really want to introduce her to my family.
"When we get to the events place, the whole place had post-its of her name and there's a mural of her.
"And there was this one table in the middle, and yeah, we had dinner there. And they were playing cheesy songs, 'Two Steps Behind,' 'Mr. Big,' mga ganun."
As for his dream date, it doesn't even have to be on Valentine's Day. He says, "You know, the thing is, I've never traveled with any girl.
ADVERTISEMENT - CONTINUE READING BELOW
"Parang, it's never happened to me na, parang, I was in a relationship and we were into traveling.
"Maybe not on Valentine's but I would really love to travel with a girl, yung kaming dalawa lang and experience, you know, new things together."
IDEAL GIRL. Jake describes what he looks for in a girl. He says, "I just want someone who's very understanding…
"Cause, siyempre, my first impression with people, it's not like I'm the good boy-type, you know.
"So, it's often that I get judged, it's very often for me na parang, ah, bad boy yan.
"So I just want someone who has, you know, consideration and understanding.
"But most of all, I just want someone who's very spontaneous. I just wanna be in a relationship where there's no plans.
"Parang, we just live it a day at a time and live each day like it's your last.
"And eventually, when the relationship takes its course, that's when you make plans. Once the relationship matures, that's when you think of the future."
STATUS: DATING. Jake admits that he is dating someone right now. Though he didn't mention her name, he has been very open about his feelings for Kapuso actress Lovi Poe.
Jake says of their relationship, "And no pressure at the moment. Kasi nga, I'm really busy and I won't go into detail of the person I'm dating.
"But that person, she's really busy too. So parang, yun na nga, like what I said, just live each day like it's your last, and no pressure, just be spontaneous."
ADVERTISEMENT - CONTINUE READING BELOW
Jake explains that they're taking their time right now as they are still both very busy with their respective careers.
He adds, "Siyempre, before anything else, you want to establish yourself. Di ba, you wanna be settled down and everything."