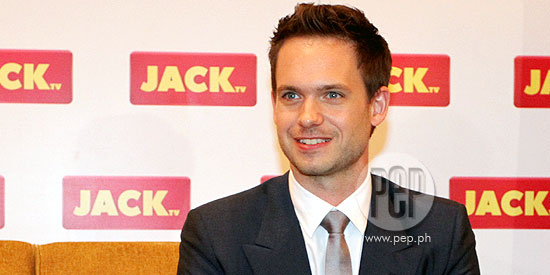 ---
Canadian actor Patrick J. Adams, more popularly known as Michael Ross of the hit legal drama series Suits, is in Manila to fortify the show's growing audience in the country.
Adams, 31, expressed his surprise over Suits's success in other places in the world apart from the United States.
He told the media at a press conference held yesterday, February 27, at the Marriott Hotel in Pasay City, that gaining a following is not exactly what he and his co-actors expect whenever they shoot in their studio warehouse in Toronto, Canada.
"It feels unremarkably sexy when we're doing it," the actor said.
"And then we step outside of that and see how popular the shows have become and see that we've actually reached so many people everywhere and that's shocking.
"Imagine what we do every day and then suddenly there's somebody on the other side of the planet who's saying thank you for it.
"It's great. It's incredible, very surreal."
RETURN TO MANILA. It is not Adams's first time to visit Manila.
The actor—who had been eating mangoes since he got to his hotel with his girlfriend, actress Troian Bellisario of drama series Pretty Little Liars—informed that he had been to Cebu when he was about fifteen years old.
"It was a family vacation… we went to a resort in Cebu and spent a couple of days in town," informed Adams whose father is a journalist.
The impression of the country he got from the last time he was here is that it is "beautiful."
Adams, who experienced scuba diving in Cebu, remarked, "The water's beautiful and the people are so warm… we just feel really welcome here."
SUITING UP. Apart from the riveting legal cases and the interplay of compelling characters at the Pearson-Hardman law firm in Suits, the show's appeal also roots from the actors' wardrobe—the suits that legal associate Michael Ross and his "mentor," hot shot legal closer Harvey Specter (Gabriel Macht), wear.
ADVERTISEMENT - CONTINUE READING BELOW
At the press conference, Adams, who looked handsome in a grey blue Marc Jacobs suit—a light grey tie, and dark denims—told that he usually goes for T-shirt and jeans on an ordinary day.
"But I've started to love wearing suits. I feel like I've started to learn wearing suits," relayed the blonde, blue-eyed actor who admitted that he found it uncomfortable donning on a suit back in season one.
"I've had people comment on the first season. They could see that I'm [slumping] like I'm a sullen little boy in a suit because my body didn't know how to actually stand in them."
As the second season closes, however, Adams said that he is getting the hang of sporting them.
"I feel like I began to learn, mostly by watching Harvey Specter, who just walks around in a suit like he was born in them.
"I'm learning how to stand properly and wear a suit and now I'm starting to enjoy them more.
"I like to wear them for a short period of time and when we shoot the show, we're wearing suits for sixteen hours a day and by the end of that, I am so ready to get out of them.
"I'd be in my pajamas," he humorously quipped as members of the media laughed.
LIKE MIKE. The combination of the talented and detached Harvey Specter and his brilliant college drop-out protégé Mike Ross, is the muscle of Suits.
The audience is likewise privy to the power tandem's secret: Mike Ross does not hold a Harvard law degree. He has, however, a gift—a photographic memory that makes him Pearson-Hardman law firm's best rookie.
The engaging aspect of the show also comes from Harvey and Mike's brotherly bond marked by the two's amusing bickering, witty repartees, and their complementing geniuses that shine in each case that they resolve.
ADVERTISEMENT - CONTINUE READING BELOW
At the press conference, Adams said that he sees himself in Mike's character than Harvey's.
"Who's really like Harvey Specter?" Adams light-heartedly retorted meanwhile brushing off the notion that Mike's character is like a "baby Harvey Specter."
The actor pointed out, "He's like a 'Baby Harvey' but I think that Mike is becoming his own version. You can see that the path of the show is not that he just wants to become just like Harvey.
"And he's got a lot of things that he's wrestling with and there are things about Harvey that he doesn't like and he doesn't want to become.
"I think, hopefully, we'll move away from Baby-Harvey mode and move into Mike-Ross-being-his-own-man kind of a thing."
Adams relates well to his character: "We're both those guys who are trying to find the good in things, trying to do what's right, sometimes losing sight of the bigger picture. And Harvey Specter, he's good at keeping his eye on the bigger picture."
Does he ever think of how he wants his character to turn out in the end?
"I want him to become an astronaut," Adams replied, throwing his audience in fits of laughter.
"That's my personal opinion, a lot of people don't agree."
The actor finally answered, "I try not to get too wrapped up in it, to be honest.
"I don't to have too many expectations working on a TV show. You kind of need to roll with the punches. I just like seeing him grow up.
"I like seeing him make mistakes. I like seeing him mess up because I think that's sort of the heart of the show—watching somebody drop the ball and pick it back up again.
ADVERTISEMENT - CONTINUE READING BELOW
"So, I hope that he keeps on evolving and find him more and more of the man that he wanted to be on the way."