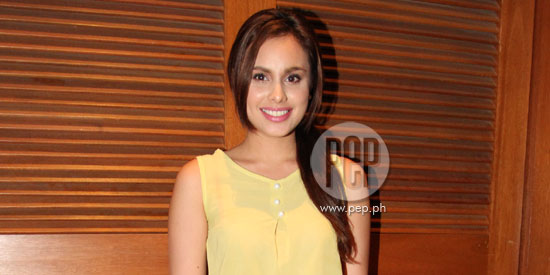 ---
Max Collins is feeling a little sad but thankful, because on the day of PEP.ph's (Philippine Entertainment Portal) PEP List 2013 launch and 6th anniversary party last March 14, her drama series Pahiram ng Isang Sandali had its last taping day.
"The best part of it was that it was finally... it was exciting, I think it was a successful show, and it finally came to a close," she mumbles while groping for words, at the same time wrestling with her emotions.
Pahiram ng Isang Sandali was Max's first starring role for a GMA-7 teleserye— and on the primetime block no less. Very few newbies get the same privilege to be trading lines with some of the country's finest dramatic actors such as Christopher de Leon and Lorna Tolentino.
This probably explains why Sam feels a little "happy kind of sad" with the show's curtain call.
She muses, "It was such a project that I loved and everyone who was a part of it is so proud of and the fact that we succeeded, finally it's over, it's sad, but we are all happy that we had this memorable time."
At twenty, she's done and seen a lot in the acting world, starting out at 13 as a Star Magic talent then known as Isabelle Abiera.
Looking back at her Pahiram ng Isang Sandali stint, Max reveals that none of it seemed like work at all.
As she recalls, "Working with such amazing people, everyday was not like work... it was fun, we all had fun and I constantly, constantly learned something from lahat ng mga kasama ko and hindi mo talaga mabili ang ganung experience, e."
ADVERTISEMENT - CONTINUE READING BELOW
She turns a little bit nostalgic as she says, "It was such a memorable experience and close to my heart because I learned so much about myself and I just enjoyed the project so much."
INDIE FILM. After that eventful stint, Max is raring to work on her next project. "It's an indie film with Direk Maryo J. Delos Reyes, it's going to be set in Bohol, and that will be like around April or May, we'll start shooting," she shares.
The film, The Bamboo Flower, is part of the Sining Pambansa All Masters Edition film festival, which brings together 12 directors shooting their films across the country. Apparently, the acclaimed director is a proud Boholano, which explains his insistence on filming in his home turf. Not only that, the bamboo flower also happens to be a rare specimen indigenous to Bohol.
Max has been cast in a lead role opposite Neil Ryan Sese and will be joined by Diva Montelaba, Ruru Madrid, Orlando Sol, Sef Cadayona, and Mylene Dizon.
With her acting confidence bolstered by her recent gig, Max keeps herself level-headed about choosing her roles, curbing the natural tendency to get too picky or demanding with everything thrown her way.
She reiterates, "I just wanna keep challenging myself, pushing my limits as an actress and grow as an actress, because I love my craft."
Hopefully, because of her work on Pahiram ng Isang Sandali, Max's star will continue to shine, and maybe her new venture with Direk Maryo will infuse her acting with a maturity that will cause other directors to sit up and take notice.
ADVERTISEMENT - CONTINUE READING BELOW
She's gone through a range of complicated emotions all throughout the run of Pahiram ng Isang Sandali, so it will be interesting to see how much deeper Max can go.
Of her Pahiram co-stars, Max readily singles out Lorna Tolentino as a genuine inspiration and actress par excellence. She exclaims, "Si Ms. Lorna Tolentino, she is such an intelligent woman and not only is she such a smart woman, she is a great actress and she's been in the industry forever, for so long, for such a long period of time and I hope to last in the showbiz industry that long as well."
"PAHIRAM NG ..." In the spirit of fun and as her own way of honoring the drama series that exposed her to a wider audience and strengthened her sweetheart image, Max gamely takes on the challenge of using the show's title in a sentence – a message aimed at their loyal viewers and fans.
Groping for the right words, she carefully says, "Pahiram ng isang sandali ..." but pauses to ask, "how do you say it in Tagalog, yung I can make you ... I can take you for a ride?"
She quickly explains, "Because that's what we do as actors – we take our viewers for a ride and as long as they stay with us, then we know we've done our jobs."
Seemingly on a roll, Max attempts a double take – this time her more personal message directed to a "special someone." She coyly blurts out, "Pahiram ng isang sandali na maaalala mo ako ... na matatandaan mo ako..."
ADVERTISEMENT - CONTINUE READING BELOW
Is this directed to a specific, special someone?
Max swiftly answers, "Yes, it's directed to a specific person, because people come and go in our lives, and I want someone to remember me, kahit for isang sandali lang."
Max, who spent a good part of her growing up years in the island of Boracay and in Kalibo, shares her vacation plans for summer 2013.
"I would go back to Boracay... ay wait! No, no... I've been thinking about Bali, I would go to Bali because I would want to visit the temples and I want to go on a spiritual retreat kaya siya Bali."
And just for fun, Max gamely answered the classic question: "If you were to be stranded on an island with only five people, who would they be?"
"Oh... since it's the ending of our show, I would say the entire cast... so let's see, bilangin natin yun... si Ms. Lorna Tolentino, sir Christopher de Leon, si Dingdong Dantes, si Alessandra de Rossi and Luz Valdez but wait... I have to put Direk Maryo, I'm sorry tita Luz, I'll have to put Direk Maryo muna, she will just follow na lang," she excitedly narrates.
And just what exactly would they be doing to pass the time?
Max laughs gayly and says, "We would be talking and drinking and maybe make a movie, like Pahiram ng Isang Sandali movie on an island!"