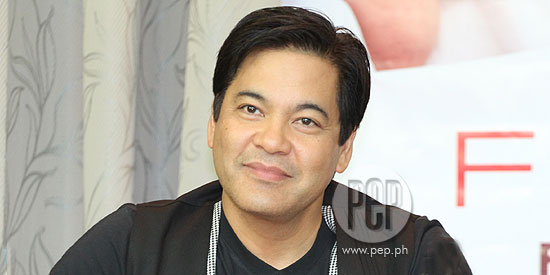 ---
Martin Nievera is open to the idea of letting his son Robin pinch-hit for him on his new show Martin Late @ Night.
In an interview with PEP.ph (Philippine Entertainment Portal) recently, the Concert King mentioned that his 26-year-old son has expressed his interest in hosting the show in case Martin needs a substitute.
Though he never influenced his eldest son to get into hosting, Martin admitted that he has long been encouraging Robin to join showbiz.
"Many, many, many years ago, pinu-push ko talaga siya to join showbiz," Martin recalls.
Initially, Robin was really hesitant to join the industry where his parents Martin and Pops Fernandez reigned supreme both as singers and talk show hosts.
Martin recalled, "I told him many years ago, 'C'mon, habang sikat pa si mommy at sikat pa si daddy, sumakay ka na lang.'
"Ayaw niya noon kasi nabaduyan daw siya sa amin, e."
When Robin grew up, Martin was surprised that he has shown interest about joining showbiz through his talent in music.
"Ngayon, nagbago na siya, gusto na niya," Martin related.
"I think he's realizing the importance of embracing the fame or whatever fame that Martin and Pops may still have.
"You have to embrace it," I keep saying to him.
"Don't shy away from it. Don't try to be so different because people, especially the press, might think you don't want to embrace that. That's not good either."
Although both he and Pops are successful music artists in showbiz, Martin stressed that he never put pressure on his son, who is trying to carve his own niche in the industry.
ADVERTISEMENT - CONTINUE READING BELOW
"No matter what you do and say, mako-compare 'yan," he pointed out.
Martin was actually happy that Robin has a different preference when it comes to music.
While he and Pops are into pop love songs, Robin seems to be leaning more into alternative rock and even the blues.
"Thank God, at least there's an improvement of the specie," Martin said in jest.
"But in his last show, he made sama a medley of his songs and pop songs and my songs together."
The Concert King was talking about Robin's first solo show last March 2 called The Nightmares Concert.
(CLICK HERE to read related article.)
BE PROFESSIONAL. If there is any one important piece of advise he could give to his son, Martin would remind him to always respect the entertainment media.
"Robin has to learn that we have to somehow exist with each other," he explained.
"You cannot make enemies, you cannot be unprofessional, you have to be professional.
"I'm trying to instill these in him.
"The fame is very temporary, the press is very sensitive—they're also people just like us and they can make or break you."
He was also quick to clarify his explanation, "I don't mean that in a bad way.
"Literally, you need to embrace them. No one is above the press."