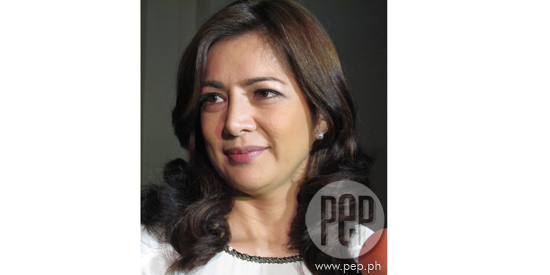 ---
"My divorce was finalized last month," revealed Alice Dixson about the end of her 13-year marriage to Ronnie Miranda.
She and her Canada-based husband filed for divorce in December 2012.
Alice admits, "It's bittersweet because nobody really wants to have a failed anything, a failed relationship.
"It's very difficult for both parties, but anybody who's been through this would know what kind of experience it is. It's very difficult."
The 44-year-old actress says that despite her marital problems, she still finds a reason to smile.
"I'm smiling now but that's just because you try to hide the pain."
Would she say that she is friends with her ex-husband Ronnie?
"At this point, it's still very early... it's amicable but it's hard to say [we're] friends. I'd like to stay friends but it's quite early. Pero hindi naman kami nag-aaway," she clarifies.
The TV5 actress points out that she and Ronnie decided to divorce because of "long-standing irreconcilable differences that, over time, were difficult to work out."
When Alice was asked if she is ready to date again, she replied, "Let's just say I'm forming friendships and it's really too premature for anything."
Alice says that she feels blessed to be working on a new movie: an updated version of the 1983 Danny Zialcita film Nagalit ang Buwan sa Haba ng Gabi.
During a set visit held last March 21 at Loyola Commonwealth, Alice said that she will reprise the role of Laurice Guillen in this film.
ADVERTISEMENT - CONTINUE READING BELOW
ALICE RETURNS TO MMK. Alice also mentioned that she is slated to star in an episode of ABS-CBN's long-running anthology show Maalaala Mo Kaya.
She previously appeared on two episodes of MMK in the past. "Dati, naka-appear na ako sa MMK twice— during the late '90s and early 2000 so it's time that I come out again."
Is she thinking about transferring to ABS-CBN?
"If there's a good opportunity and it's a good career move, then I would consider. But honestly, TV5 has been very good to me," she admits.
"I love them to death. They were the first ones who gave me a break when I came home. In a way, I have loyalty to them.
"But mabait naman sila sa akin at pinapayagan nila ako na gumawa ako ng TV shows sa labas."
However, she clarified that she is still under contract with TV5 until 2014.
When asked what would make her consider transfering to another network, Alice answered, "At this point, it would be if something isn't going well in my home station now. That would be the only reason coz right now, I'm pretty happy where I am."