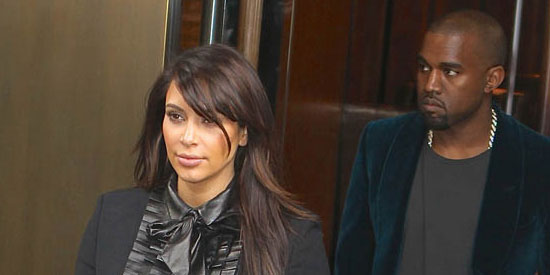 ---
Kim Kardashian is preparing to tie the knot with Kanye West after the birth of their first child.
The couple—who began dating more than a year ago after a decade long friendship—will welcome their baby in early July and have reportedly set a date for a low-key wedding shortly afterwards.
A source told gossip website RadarOnline.com: "Kim's choice at the moment is a starlight ceremony in California's Big Sur."
The 32-year-old beauty—whose divorce from Kris Humphries was settled last month after a long battle that began in November 2011 when they split after 72 days of marriage—plans to wear an "ethereal white wedding dress."
But the 35-year-old rapper has warned Kim, who was also previously married to music producer Damon Thomas when she was 20, that it cannot be a media circus and their wedding photos will not be sold for a profit.
The insider said: "Instead, Kanye says they should consider a donation to one of Kim's charities like the Skin Cancer Foundation, or Mattel Children's Hospital in a deal around the wedding for a short film."
ADVERTISEMENT - CONTINUE READING BELOW
The source also said the couple have been talking "about marriage for a long time, so it's not like Kanye is going to propose and they'll get engaged — its been something they've been looking forward to for a while during the divorce.
"Now that Kim's almost a free woman, she wants an immediate wedding — she wants to marry the father of her baby as soon as possible, but the birth must come first."