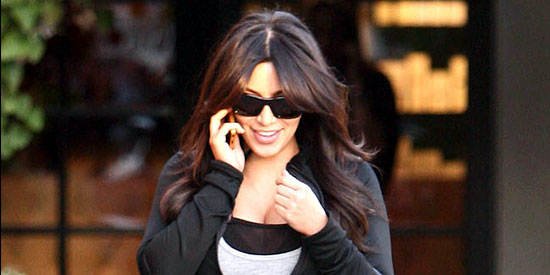 ---
Kim Kardashian has banned hospital staff members from having mobile phones with them while awaiting her due date at the Cedars Sinai Medical Center in Los Angeles.
The Keeping Up With the Kardashians star is so paranoid about pictures of her baby being leaked.
A source says: "Kim's banned all staff, except two senior members, from having their mobile phones just in case they try and sneak a photo of the baby."
Meanwhile, the 32-year-old girlfriend of Kanye West is said to be "panicking" about going into labor.
And that's because she doesn't know what to wear following a spate of criticism directed at her maternity fashion choices.
A source tells the Daily Star newspaper: "Kim's already panicking about the day she goes into hospital.
"She's desperately trying to pick out an outfit that will be flattering but stylish.
"Kim's bashing out ideas with her stylist about what to wear on the day of labor, and also what to wear when she leaves hospital with the baby.
"She knows the world's media will be watching and she is refusing to make another bad fashion choice.
"She's desperate to get it right this time."
Kim is expected to give birth in July.