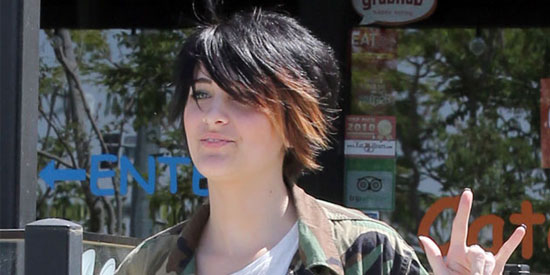 ---
Paris Jackson has been rushed to hospital after an alleged suicide attempt.
The 15-year-old aspiring actress—the daughter of the late Michael Jackson—was taken to hospital in the early hours of Wednesday morning, June 5, after ambulances rushed to her home in Calabasas, California.
TMZ reports that medical help arrived at the home at around 2 a.m. and the teenager was taken to a nearby hospital after a 911 call was placed at 1.27 a.m.
Paris—who has two brothers, Prince, 16, and 11-year-old Blanket—is said to have slashed her wrists in an attempted suicide attempt, according to the report.
Paris posted a series of troubling messages on her Twitter account last night (June 4), including: "I wonder why tears are salty?"
She later added: "Yesterday, all my troubles seemed so far away now it looks as though they're here to stay. "
These are line from the Beatles song, "Yesterday".
Her grandmother Katherine Jackson says Paris is doing well.
ADVERTISEMENT - CONTINUE READING BELOW
Katherine said in a statement: "Paris is physically fine and getting appropriate medical attention.
"Being a sensitive 15-year-old is difficult no matter who you are. It is especially difficult when you lose the person closest to you.
"Please respect her privacy and the family's privacy."
Paris has recently begun developing a relationship with her birth mother Debbie Rowe, Michael's ex-wife, who relinquished her custody rights to Paris and Prince following her divorce from the "Bad" singer in 1999.
The teenager is reportedly upset that she will be called as a witness in the Jackson family's high-profile court case after they a wrongful death lawsuit against concert promoters AEG Live.
Katherine Jackson claims the promoters, who were behind the 50-date London residency he was preparing for at the time of his death in June 2009, were negligent in hiring disgraced physician Conrad Murray to supervise the "Thriller" singer's medical care.
ADVERTISEMENT - CONTINUE READING BELOW
Murray was convicted of manslaughter after delivering a lethal dose of Propofol which killed the superstar.