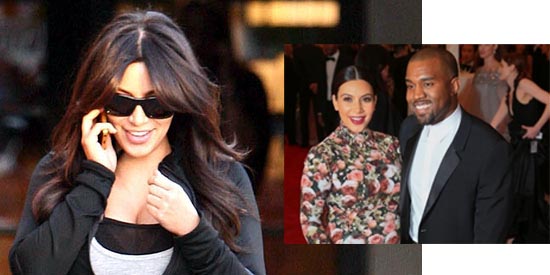 ---
The daughter of Kim Kardashian and Kanye West is a "miracle" addition to their family.
The reality TV star's younger sister Khloe, 28, has finally confirmed the safe arrival of her new niece, who was born five weeks premature in Los Angeles on Saturday morning, June 15, 2013.
She also assured the Keeping Up with the Kardashians fans that more news about the baby, including her name which is rumored to begin with the letter K, will be revealed soon.
Writing on Twitter on Sunday, June 16, Khloe said: "I can not even begin 2 describe the miracle that is now apart of our family. Mommy/baby are healthy & resting. We appreciate all of the love."
She added: "More info will come when the time is right! Thank you all for understanding! We love you all dearly! Overwhelmed with love right now."
The messages were retweeted by her mother Kris Jenner, who also wished the rapper well for his first Father's Day.
Kris Jenner wrote: "HAPPY FATHERS DAY @kanyewest!!!!!!"
The family matriarch later posted a collage of photos, featuring Kanye, 36, her husband Bruce Jenner, her son-in-law Lamar Odom, her daughter Kourtney's boyfriend Scott Disick, and her late ex-husband Robert Kardashian, with the caption: "Well hello boys!!! Happy Fathers Day to the most wonderful men in the world!!! Thank you for being incredible Daddy's I love you @letthelordbewithyou @reallamarodom @kanyewest Bruce and Our beloved Robert!!!"
Kanye previously vowed to protect the privacy of his baby girl and is said to have urged Kim, 32, to take a step back from the limelight for the sake of their daughter.
BABY LOOKS LIKE KIM. Meanwhile, the 32-year-old star gave birth to her first child at Cedars-Sinai Medical Centre in Beverly Hills, with boyfriend Kanye West by her side.
The baby reportedly has a full head of dark hair, and looks just like her mother.
A source told E! News: "She has dark hair. She looks just like Kim."
Despite being born five weeks early, the couple's daughter is in good health and weighs almost five pounds.
Another insider said: "Of course, Kanye was there with Kim when she went to the hospital and had the baby.
"She started to feel sick late last night [Friday] and was having contractions.
"They're all doing great and amazing."
A number of Kim's close friends, including Jonathan Cheban and Brittny Gastineau, were spotted visiting her in hospital carrying bouquets of pink flowers.
Kanye's friends Nas and Russell Simmons offered their congratulations on Twitter.
The couple, who began dating almost a year and a half ago after a decade of friendship, have yet to officially comment on the birth of their daughter.
So far, the most recent statement released by the former to date was about her late father Robert Kardashian, her stepfather Bruce Jenner, and Kanye.
On her blog, she wrote: "Father's Day is always bitter sweet. Of course every year that goes by I miss my dad just as much as the last, but I am so blessed to have had two incredible dads in my life that have taught me everything I know!
"Thank you Bruce for always being there for me, and thank you Dad for raising me right!
"To all the fathers out there, Happy Father's Day!! And to all the baby daddy's out there, you are loved! ;) Xo"
ADVERTISEMENT - CONTINUE READING BELOW