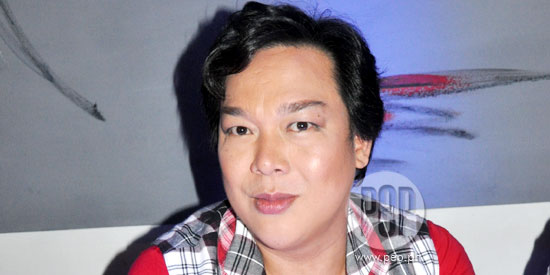 ---
John "Sweet" Lapus finds it timely and reasonable to "school" today's breed of budding stand-up comedians.
His opinion resonates well with the Movie and Television Review and Classification Board's (MTRCB) proposal to put up a "comedy academy," where such comedians will learn where to draw the line between clean, decent humor and the controversial kind that borders on the offensive and risque.
The award-winning actor and comedian was asked about his opinion regarding the MTRCB's suggestion at the press conference of his musical comedy show with BB Gandanghari, Beauty and the Sweet, on June 27, Thursday.
A meeting between the MTRCB and the ABS-CBN network transpired on June 5 wherein "comedy bar humor" and its gradual incursion in television shows were discussed.
The meeting likewise delineated the limitations and guidelines for the writing and delivery of jokes on national television and film.
More importantly, it was during the June 5 meeting that the MTRCB proposed that "comedy schools" be put up in respective television networks in order to heighten the moral and ethical sensitivity among artists and writers, particularly with regard to the far-reaching repercussions of their work among the viewing public.
The MTRCB's initiative was brought about by the controversial "rape" joke that Vice Ganda delivered during his May 17 concert at the Araneta Coliseum.
Vice received flak for making broadcast journalist and GMA-7 vice president for News and Public Affairs, Jessica Soho, the subject of his "rape" joke.
IN DEFENSE OF SING-ALONG HUMOR. During the Beauty and the Sweet press conference, Sweet told the press that he sees eye to eye with the MTRCB's recommendation that networks put up a "comedy academy."
He jokingly began, "Willing naman ako magturo pag pinilit nila."
Sweet said that the younger comedians usually get "training" from their senior hosts and owners of the sing-along bars they work in.
ADVERTISEMENT - CONTINUE READING BELOW
However, the actor/comedian believes that "proper schooling" is still needed.
He reasoned out, "To be honest, ang feeling ko naman for TV actors na komedyante, mukhang some of them, kailangan pa mag-aral pa or i-pray over.
"Sa nakikita ko talaga, medyo ang dirty na ng comedy."
His sentiments were brought about by an incident at the recent anniversary celebration of The Library comedy bar.
Sweet narrated, "The other day nga anniversary ng The Library parang… may nagsabi daw na yung ganung pang-o-okray is parang 'sing-along joke.'
"Hindi ganun. Hindi lahat ng nagshu-show sa sing-along, ganun po ang humor," Sweet firmly said.
"And Philip Lazaro, who started in the sing-along industry twenty-five years ago, hindi po siya gano'n."
Philip Lazaro is a comedian friend of the actor and is also the director of the upcoming show Beauty and the Sweet.
Asked if he wanted to name names, Sweet said that he wasn't singling out anyone in particular.
He pointed out, "I just want to correct the statement nung iba na yung konsepto ng comedy na nanlalait is also called 'sing-along humor.' It is not.
"The likes of Philip na nagsimula sa sing-along, to be honest, na-o-offend sila."
Sweet likewise defended his colleagues Ai Ai Delas Alas and Allan K whose careers are rooted in sing-along comedy bar shows.
Philip, who was present at the press conference with Sweet and BB Gandanghari at the presidential table, did not hesitate to speak up.
"Actually, it's kind of hurtful that they call it sing-along comedy because that's where we started and from the very beginning, sing-along comedy is not that dirty.
"It's an art. So, I think we should put back the art in sing-along comedy kasi sing-along comedy is another form of comedy. Actually, it's stand-up," Philip pointed out.
ADVERTISEMENT - CONTINUE READING BELOW
The comedian/musical show director confirmed that his colleagues take offense whenever people associate comedy bar humor with "pang-ookray" or making fun of anyone in the audience.
He stated "Napakasakit for us who started it in a very clean slate with so much intelligence, sincerity, and sensitivity na biglang isang tao na lang… I'm not saying anyone specific, no specifics."
Philip went on, "Ang komedyante ngayon they're like a dime a dozen. Sa isang parlor, stand-up comedy kaagad?
"It doesn't work that way. Dapat meron kang sincerity, dapat meron kang utak, ganun.
"Ibalik natin yung art saka yung ganda ng stand-up comedy.
"I think that academy will really help a lot."
THE PROBLEM WITH YOUNGER COMEDIANS. While talent among comedians is "innate," Philip says that honing that skill is a must.
He told, "We should work on it. It's a process.
"It's not just, it is given, it is God-given, but sometimes you have to work on it so you would know the right way to do it."
The insightful comedian acknowledges that there is an inherent problem with the younger generation of comedians and how they come up with their material.
Philip pointed out, "Ang problema ngayon sa ibang komedyante, lalo na yung mga bata-bata, respetado sila ng mga sing-along bars nung high school, college sila.
"By the time na sila na yung nagtatrabaho sa mga sing-along bars, sila yung gumagawa ng mga stand-up shows, pag sila na yung nagpe-perform sa TV, lahat ng mga comedy nung araw na pinanood nila, pinagsasama-sama nila.
"That's what they do, napansin ko, tapos they exaggerate it.
"So, dun na nagiging bastos, nagiging offensive, nagiging bullying sabi nga ng iba. Yun ang problema!"
"OKRAY" NOT FROM SING-ALONG COMEDY. Philip also brought up the fact that people have become hesitant to go to sing-along bar shows because they fear getting ridiculed during the show.
ADVERTISEMENT - CONTINUE READING BELOW
He explained, "Nagkakaro'n ng parang ano yung mga tao na, 'Ayaw kong pumunta ng sing-along comedy, o-okrayin ako!'"
Sweet backed Philip, "Until now! Especially 'pag weekday [shows], sa Clowns, sa Zirkoh, kung sa'n nagpe-perform kami ni Philip, talagang bakante yung harapan.
"Ayaw nilang umupo!
"Nung araw hindi naman. Nagsimula yung stand-up career ko sa Library... ang liit-liit lang, ayan upuan mo, ayan na yung stage."
The transgender actress BB Gandanghari suddenly also expressed his sympathy for Sweet and Philip when he voiced out: "Saka, correct me if I'm wrong pero ang natatandaan ko noon, sila Ai Ai as a stand-up comedian/sing-along comedian, sarili nila ang in-okray nila.
"Ngayon, it's the other way around. Yung taong nagbabayad ang na-o-okray, which is really off, I think."
It was more intimate then, Philip reminisced.
"We [shouldn't] don't go away from the performers, it's an intimate interaction.
"Ang nangyayari... unlike before, sila Allan K, we make fun of ourselves, or we make fun of situations but not about other people.
"It doesn't work that way," he stressed in conclusion.