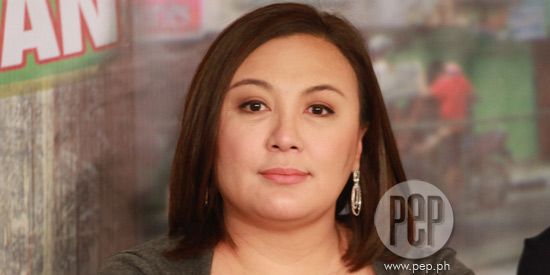 ---
Sharon Cuneta marks a milestone in her life by agreeing to star in a soap opera for the first time in a career spanning over three decades.
Titled Madam Chairman, this project is dubbed as a "tawa-serye" wherein the Megastar plays a mother who suddenly becomes a barangay chairman.
Directed by Joel Lamangan while Joey Reyes serves as the head writer, this upcoming primetime TV5 series will be aired this September.
What made her accept this TV project?
Sharon explained, "It took a collaboration of my two great directors to make me say yes to a teleserye. I fell in love with it!"
Did she receive offers to do soap operas in her former home network ABS-CBN?
"Many times," revealed the Megastar.
"This is different because it has a running social commentary but not hard core. It's going to have relevance and it shall be inspiring.
"We wanted something na hindi lang masaya, may puso at may saysay rin.
"It's very different so that's why we call it a 'tawa-serye.'"
Sharon admits that TV5 is still struggling compared to its rival networks, ABS-CBN and GMA-7, but she is hopeful that the Kapatid Network will be able to perform well in the highly-competitive primetime block.
"Our network is not up there with the rest but I hope that we also get a good share of the audience.
"I hope the audience will give us a chance for this because we have the best people behind this teleserye.
"I will certainly do my best and so will the rest of the cast. I hope they give it a shot."
ADVERTISEMENT - CONTINUE READING BELOW
When asked why it has been so long since Sharon came out on television, TV5 head of creative and entertainment production Perci Intalan explained, "For Madam Chairman, the timing was very critical. We needed time to develop the right project for her.
"When we developed it, we had to present it to her, present it to management, and then write the scripts and prepare everything.
"At the same time, Sharon had commitments…and we had to plot out her calendar for as early as the start of the year.
"During the first part of the year, she had a trip abroad and from May to June, she had commitments abroad.
"Inayos namin yun at tamang-tama, we had time to develop it.
"She knows it's going to be relentless because it's unlike anything that she's done before."
Sharon describes her character Bebeth de Guzman as "very funny."
She pointed out, "If you remember Crying Ladies [2003], it's like that pero hindi siya mandurugas.
"She's also a mother to three kids. In Crying Ladies, one lang. She wants to make a difference.
"Siya yung number one kagawad kaya nung namatay yung Chairman, siya yung pumalit.
"My character's name is Bebeth.
"We call it a tawa-serye but make no mistake, there's going to be some drama and it has a lot of heart.
"I'm proud of it because it written by Joey Reyes and directed by Joel Lamangan.
"I'm with a good cast and I'm also excited to work with the new ones."
ADVERTISEMENT - CONTINUE READING BELOW
Since this will be her first time to work on a TV soap opera, what adjustments will be she doing for this project?
"My biggest fear would be the schedule but, thank God, Direk Joel has a cut-off. And so do I.
"It will be like shooting a movie with Direk Joel, I guess, but on a regular schedule.
"At least, I know the dates and when I can schedule things with the kids.
"I'm not afraid of the work because as God is my witness, I love the story."
Even though this project is called a "tawa-serye," Sharon says her upcoming series will also showcase her forte: doing drama.
"There will be moments of drama," she assured.
NO TO POLITICS. In Madam Chairman, Sharon will portray a barangay captain but in real life, she has no desire of entering politics.
She says, "I think I can make a difference without having to be in public office and I am enjoying my position, wherever it is right now.
"My priority is still my children and my family.
"I am not the type to announce what I do except if I know it is to invite other people to help certain causes. But I do my share.
"I am a firm believer of what goes around comes around but also you have to check yourself that you want to help not because you want it to come back to you."
The Megastar then announced that she is looking for scripts featuring roles that she can portray on the big screen. Writers are invited to send their scripts to megascripts2013@gmail.com.
ADVERTISEMENT - CONTINUE READING BELOW
"I want to invite new scriptwriters, you don't have to be of a certain age since it would be nice to have young blood… kahit anong edad pa 'yan.
"Basta, I want to invite people to send me scripts, pero hindi yung puwedeng maging vanity film ko.
"I want scripts like Crying Ladies, the way it hit me.
"The character Stella Mate [in Crying Ladies], I just immediately fell in love with her.
"You can tackle more kung indie films and commercial films. You can do roles like I did in Madrasta.
"There were changes but not so drastic that it alienated my audience."
What motivated her to look for new characters to portray onscreen?
Sharon replies, "I just want different stuff.
"At this point in my career, I hope it doesn't sound boastful, but like Direk said, I don't think I have anything to prove and I'm able to experiment now so I'm open to it.
"Mamimili ako ng script and yung mananalo, magkakaroon ng cash prize.
"Hindi lang naman isang script ang pipiliin but the others will get a chance na kumita rin kapag ginawang movie at binili ang scripts sa kanila.
"I can produce these movies for a certain budget and other independent filmmakers can come to me and not worry about my suweldo when I fall in love with the script."
The Megastar then stressed: "I am very open to doing indie movies."