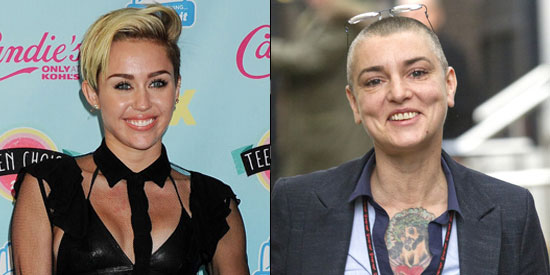 ---
Miley Cyrus claims she's still a big fan of Sinead O'Connor.
The 46-year-old Irish musician criticized and insulted the 20-year-old singer in a number of open letters posted online last week, which has sparked a feud between the pair.
But Miley insists she hasn't got a bad word to say about the musician and was left baffled by the whole thing.
Speaking to Matt Lauer on The Today Show, she said: "I think she's an incredible artist.
"I think she's an awesome songwriter and I was really inspired by her for my 'Wrecking Ball' video, which is what started the whole thing.
"I don't know how someone can start a fight with somebody that's saying, 'Hey, I really respect you. And I really love what you did.' 'You know what? You suck and I don't like you.'
"That was kind of crazy, but like I said, I'm a big fan of hers, so it doesn't really matter."
Miley, who revealed Sinead's video for "Nothing Compares 2 U" inspired her "Wrecking Ball" promo, added: "I get open letters every day so it's nothing too new for me."
The "We Can't Stop" hitmaker—who caused uproar after her raunchy latex bikini-clad performance at the MTV Video Music Awards in August—insists she doesn't mean to make people feel uncomfortable, but is refusing to tone down her sexy new image because her fans understand her.
She explained: "I don't ever really plan to offend people, but sometimes that happens because I think people, they're not open to what they don't understand."