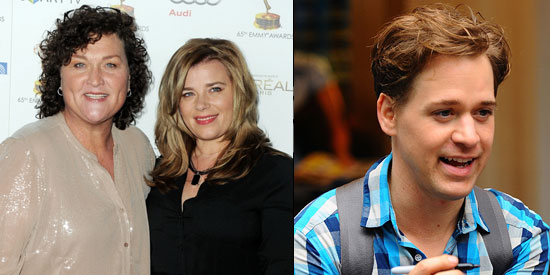 ---
Glee actress Dot-Marie Jones proposed to her girlfriend.
The 49-year-old actress, who plays Coach Shannon Beiste on the musical TV series, was visiting theme park Disneyland in California this weekend with long-term partner Bridgett Casteen when she popped the question.
According to advocate.com the happy couple and got engaged near the Sleeping Beauty Castle on Friday (October 4).
Dot-Marie said: "It's the happiest day of my life. I never thought I'd find somebody that is so loving and kind."
The pair were attending the Anaheim Gay Days festival, an event which brings together the LGBT (lesbian, gay, bisexual, and transgender) community.
Dot-Marie later tweeted her fans: "SO HAPPY!!", along with an image of her with Bridgett peering into the camera and smiling.
The star is openly lesbian, while Bridgett was formerly married to Jack Parham with whom she has two children.
T.R. KNIGHT. Meanwhile, T. R. Knight has married his long-term boyfriend.
The former Grey's Anatomy star wed Patrick on Friday October 4 and the pair were surrounded by family and friends in an intimate ceremony.
According to Usmagazine.com, a source said: "It [was] very small and quiet."
The actor's former costar and close friend Katherine Heigl attended the ceremony. The blonde beauty played Dr. Isobel Stevens, while Knight became known for his part as Dr. George O'Malley on the medical drama which catapulted him into the spotlight.
The 40-year-old hunk is currently starring as Mercutio in a production of Romeo & Juliet in New York City.
Although his co-stars, including Elizabeth Olsen and William Hurt, were unable to attend the ceremony they congratulated him on the happy occasion.
The source added: "[The] cast wishes they could go too, but they all congratulated him."
Knight first came out as gay in a statement in 2006 in a bid to clarify any rumors which were developing about him.
ADVERTISEMENT - CONTINUE READING BELOW
He said: "I guess there have been a few questions about my sexuality, and I'd like to quiet any unnecessary rumors that may be out there.
"While I prefer to keep my personal life private, I hope the fact that I'm gay isn't the most interesting part of me."