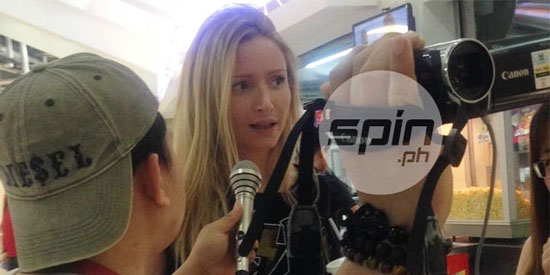 ---
The mystery girl who captured the heart of basketball superstar James Yap has finally come out in the open.
Michaella Cazzola, the beautiful and charming lass from Florence, Italy, quietly slipped into the country over the weekend to watch her boyfriend play in the PBA Governors Cup Finals.
Shy and reserved, the pretty Italian refused to face the camera during the interview, and had to be repeatedly prodded by Spin.ph before finally agreeing to speak before a camera.
"I am so shy… I am pangit … If not you are James's friend, I will not agree [laughs]. Audio interview na lang only, please," she told Spin.ph as she tried to speak the few Filipino words she has learned from her celebrated boyfriend.
An employee of Asian Development Bank, the 30-year-old Michaella described her relationship with the two-time PBA Most Valuable Player as colorful, describing James as "very sweet and quiet, thoughtful, and caring."
She said a common friend introduced them to each other last year.
"It was just magical. I don't know. Everything started as friendship," said the 30-year-old Italian, with a giggle.
"James is just so sweet. He is very honest, but very private, too.
"He has a very good attitude. He gets along well with everybody.
"He's positive. He's very private," said Cazzola, who revealed that just like any ordinary couple, they, too, engage in healthy arguments from time to time.
Mick (Michaella's nickname) recalled James readily accepting her invitation when she urged him to visit Florence last year.
ADVERTISEMENT - CONTINUE READING BELOW
"It was August when he first flew to Italy," she said, revealing the two weren't an item yet at the time.
"No, we were just friends that time. But I was already testing his sincerity," Cazzola chuckled.
It was in September that she finally said yes.
More than a year later, rumor has it that the couple have already set a wedding date "next year." Has James proposed to Mick? Read: James Yap's Italian girlfriend opens up about 'magical' relationship, his past, and marriage plans