"Tama na ang pulitika!" says Cristina Gonzales about the issues being hurled at her husband, Alfred Romualdez, who is presently the mayor of Tacloban City.
Tacloban is one of the hardest-hit areas after super typhoon Yolanda.
Addressing comments on the city's lack of preparedness for such a calamity, Cristina states, "How can you be ready for... actually, they say, the worst disaster in the world?
"…the tsunami, sino'ng puwedeng maka-prepare?"
When asked about PNoy's "hindi-ganun ka-prepared" remark in an interview dated November 9, Kring-Kring (Cristina's screen name) answers, "I think he was misinformed. Pero nung nagpunta siya dun, siguro nakita naman niya ang sitwasyon."
In the second wave of her media interviews, held last November 12, at Toki Japanese restaurant in The Fort, the actress turned politician defends her fellow city officials.
She says they prepared the evacuation centers, told the people to relocate, and distributed food packs.
She adds, "Hoping for the best, preparing for the worst.
"But, of course, who would think naman na mangyayari sa bansa natin ang ganung klaseng ano... disaster?"
Kring-Kring describes it as a "nightmare" and "parang movie."
THE LONGEST TWO HOURS OF HER LIFE. Her story is reminiscent of the 2012 film The Impossible, which starred Naomi Watts and Ewan McGregor.
Except that a tsunami hit Phuket, Thailand, instead of a "storm surge."
She relates, "Siguro nga, kasi yung bahay namin, by the beach. Actually, facing the Pacific Ocean.
Photo taken in July 2013 at Patio Victoria, a resort owned by the Romualdez family.
"Further back, near our main house, [we stayed sa] mas malayo sa beach, thinking hindi na kami aabutan dun."
But on the first strike of Yolanda, "Yung ceiling gumagano'n na siya. Naggaganun na siya [gesturing up and down]...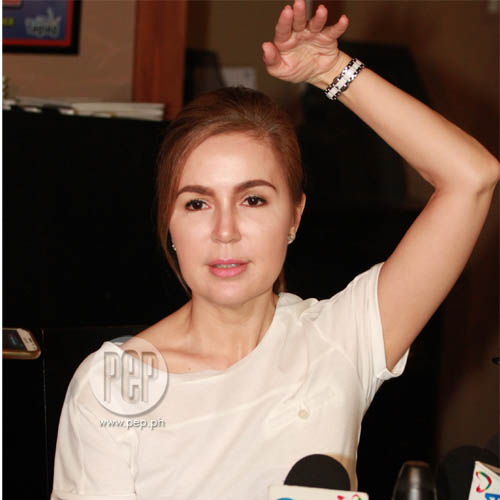 "Sobrang lakas ng hangin at that point. It was so malakas, sobrang malakas, yung sound nakakatakot."
She and her daughters—Sofia, 14, and Diana, 11—decided to leave the house, "Baka matamaan kami sa ulo."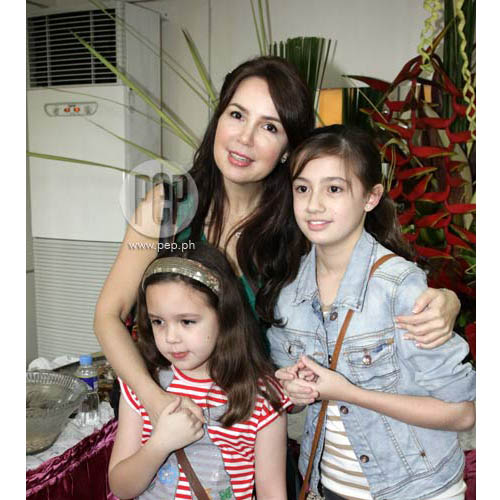 Photo taken in 2011 of Kring-Kring with her two daughters, Diana (left) and Sofia.
Then came the next hurdle: "Baha…about ten to twelve feet!"
The current, she says, was so strong that it knocked most of the walls down.
Continuing, she says, "Mga swimmer mga anak ko." So they swam away from the house with help of a "kutson."
"The water, sobrang lakas siya, na talagang iaanod ka.
"Kung makakawala ka dun, puwede kang makuha ng tubig, puwede kang maanod.
"Yun kasi ang usual na mga namatay, kasi nga, naanod sila, natamaan ang ulo, natamaan ng mga debris, di ba?"
They took shelter in a vacant room, where they prayed and hoped that the water level would soon go down.
Their ordeal, she recounts, lasted for about two hours.
THE AFTERMATH. Kring-Kring sustained a few bruises.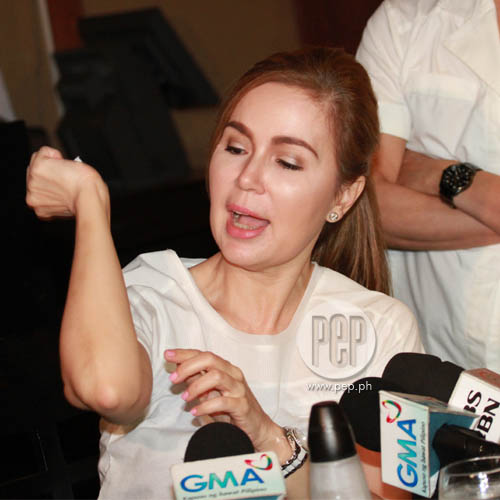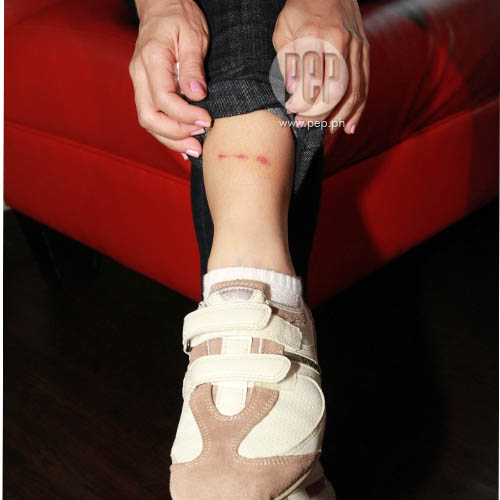 Add to that, "May mga daga na malalaki, na nandun sa buhok ko, buhay. Siyempre, they're also saving their lives siguro.
"Tapos yung mga ano, 'Ay, ma'am, daga!' gumaganun yung staff ko sa 'kin.
"Wala ka nang pakialam. May daga, may isda... wala ka nang pakialam.
"Basta you survived and, you know, be strong for your children. Make sure na buhay ka."
One of the first things she noticed when she began surveying the area was that, "The neighbors, yung mga walls separating the houses, wala na.
"All the biggest houses, wala ng roof.
"We were able to walk, and I had no more shoes. My daughters were in rubber naman and closed shoes.
"And we were walking and we'd see the people, everyone walking. Pare-pareho na kayo.
"At that point, parang tulung-tulong...
"Of course, they'd ask help from us, they're asking Betadine, kasi nga wala.
"When you get naman a first-aid kit, [wala because] everybody was a victim.
"Even the families of police, families of DSWD [Department of Social Welfare and Development] who are supposed to rescue, the rescue team, everyone!
"More than ninety percent, so how can you?
"It's like, alam mo yung giyera? We asked our grandparents about the giyera, that's how it looked back then.
"Ganun daw description, e, after the bombing.
"Rich or poor, pare-pareho kayo, businessman, tricycle driver... I mean, anyone!
"Everyone's the same, you know, everyone's wet…"
With no extra clothes to wear, she says she borrowed a pair of shorts and underwear from one of her helpers.
With no food to eat, the whole family shared a few cans of Vienna sausage, at Cristina's Salon and Spa, which is located at the downtown area.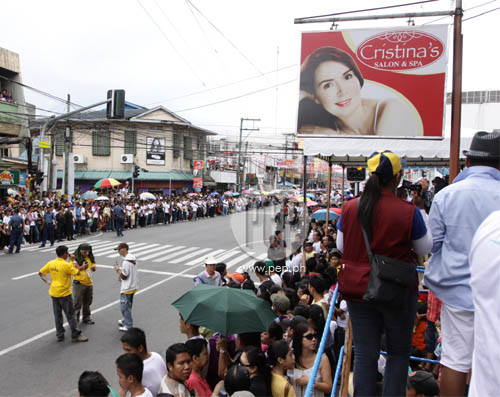 Photo taken in July 2013
One thing her daughters realized that day, Cristina says, is "learn the value of water and the food."
For her part, she says she has learned, "Material things, they're not permanent in your life."
And to those who have the time and the energy to blame people, the city councilor says, "We didn't want this. We prepared, but we're not ready for this. This thing can happen to anyone."
Lastly, she asks for one thing: "Show some kindness sa kapwa natin."