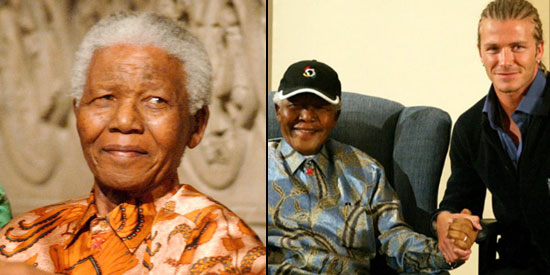 ---
Most celebrities took to the social media to honor the late Nelson Mandela, who died peacefully at his home in Johannesburg, South Africa, last night, December 5. He was 95.
Bill Gates: "Every time Melinda and I met Nelson Mandela, we left more inspired than ever. His grace and courage changed the world. This is a sad day."
Arnold Schwarzenegger: "President Mandela's life is the closest thing we have to proof of God... My thoughts and prayers are with his family and the people of South Africa."
Anderson Cooper: "I remember Soweto. Election day 1994. Standing in line with elderly South Africans voting for the first time in their lives. #Mandela"
Mike Greenberg: "In the end, there is no greater epitaph than this: The world is better because he lived. #RIPNelsonMandela"
Ricky Martin: "There is a party in heaven. Angels are celebrating. The one and only #NelsonMandela has arrived. RIP"
Paul Simon: "Mandela was one of the great leaders and teachers of the twentieth century. He conceived a model for mortal enemies to overcome their hatred and find a way through compassion to rebuild a nation based on truth, justice and the power of forgiveness. His passing should reignite a worldwide effort for peace."
Fergie: "Meeting Nelson Mandela at his house in Johannesburg was a truly memorable moment in life for me. He was an angel."
Larry King: "Sad to hear about the passing of Nelson Mandela - he was the greatest figure of the 20th century—a fascinating man."
Lindsay Lohan: "A good head and a good heart are always a formidable combination." #RIPNelsonMandela"
Channing Tatum: "'To be free is not merely to cast off one's chains, but to live in a way that respects and enhances the freedom of others.' —Nelson Mandela"
Justin Timberlake: "One of our GREATEST leaders... Thank you for BEING the true meaning of compassion. May you be at peace now. #RIPNelsonMandela"
ADVERTISEMENT - CONTINUE READING BELOW
Jennifer Lopez: ""It always seems impossible until it's done." Rest in Peace Nelson Mandela. You will be missed. #trueinspiration #peoplewhochangetheworld"
Neil Patrick Harris: "Nelson Mandela, rest in peace. What an unbelievable legacy…"
DAVID BECKHAM. Retired soccer star David Beckham took to his Facebook account to post a picture of himself with the former South African President and anti-apartheid revolutionary.
In a message accompanying the image, which featured Beckham meeting the legendary figure in 2003, before the then-England captain played in a friendly fixture against South Africa, he simply wrote: "Thank you."
Beckham also posted a longer tribute to Mandela shortly beforehand and admitted it was an "honour" to have met such a "courageous human being."
He wrote on his Facebook page: "My heart goes out to the people in South Africa and Mr Mandela's family. We have lost a true gentleman and a courageous human being. It was truly an honour to have known a man who had genuine love for so many people. Rest in peace."
SPICE GIRLS & CHARLIZE. David's wife Victoria met Mandela along with her fellow Spice Girls bandmates—Emma Bunton, Geri Halliwell, Mel B, and Mel C—in 1997, when he jokingly declared: "These are my heroes."
Emma led the girl group's tributes to the great man last night, writing on Twitter: "RIP Nelson Mandela. What a legacy he has left behind. I had the honour of meeting him and his spirit was unlike any other."
Mel C tweeted: "I always feel strange acknowledging somebody's passing on twitter but I have to say I am honoured to have met the great Nelson Mandela #RIP"
South African actress Charlize Theron wrote: "My thoughts and love go out to the Mandela family. Rest in Peace Madiba. You will be missed, but your impact on this world will live forever."
ADVERTISEMENT - CONTINUE READING BELOW
PRINCE WILLIAM. Prince William and his wife, Duchess Catherine, attended the Royal Premiere of Mandela: Long Walk to Freedom—a film about the South African political figure's life—in London this evening, and were informed of his passing as the credits began to roll.
Speaking about Mandela after the screening, William said: "I just wanted to say it's extremely sad and tragic news.
"We were just reminded what an extraordinary and inspiring man Nelson Mandela was.
"My thoughts and prayers are with him and his family. It's very sad."
The Prince and the Duchess looked visibly upset as they left the cinema. Mandela's family were represented by his daughter, Zindzi, at the screening, and it is thought she was told of her father's passing just before the movie started.
Earlier in the evening, she had told MailOnline of her pride in the film, saying: "It's something that makes me feel really proud, what my family went through and the role my father played has been recognised. It is a reward [for him]."
Mandela was a friend of Prince William and his brother Harry's mother, Princess Diana, whom Mandela met during her visit to Cape Town in South Africa in 1997, only months before she died.
In 2002, Mandela paid his respects by laying a wreath on her grave in Northamptonshire, middle England.
NICOLE SCHERZINGER. Nicole Scherzinger also paid tribute to Nelson Mandela as she picked up her top TV personality prize at the Cosmopolitan Ultimate Women of the Year Awards 2013.
The X Factor UK judge sang an impromptu rendition of "This Little Light of Mine" at the star-studded awards ceremony in London last night, December 5, after hearing of the anti-apartheid revolutionary's passing at his home in Johannesburg, South Africa.
Nicole said she had performed the track for Mandela at his 90th birthday party, and was moved to tears as she took to the stage at the V&A Museum.
ADVERTISEMENT - CONTINUE READING BELOW
The 35-year-old star later wrote on Twitter: "God Bless @NelsonMandela Tears stream as it was an honour to have known u. / U were truly exceptional & an inspiration."