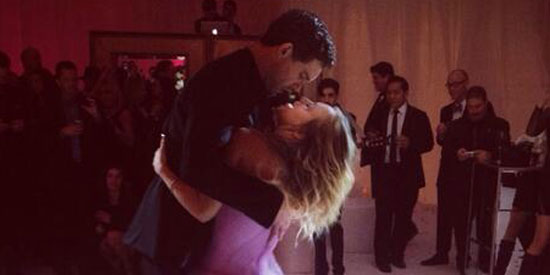 ---
The Big Bang Theory star Kaley Cuoco tied the knot with Ryan Sweeting on Tuesday, December 31, in southern California.
The pair made sure they saw in 2014 in style as a married couple by featuring a seven-layer chandelier cake, which was hanging from the ceiling, during the after-party of their nuptials.
However, there were giggles all around for their guests as the tennis player couldn't help but smother his new wife's face in cake, prompting her to have a laughing fit.
The 28-year-old actress posted a photograph of the cake on Twitter today, January 2, where she also thanked the Butter End bakery for creating such a marvelous piece.
She tweeted: "@thebutterend thank you for creating our chandelier cake! Literally Hanging from the ceiling. EPIC"
The blonde beauty also shared a cute snap of her and her new husband taking to the floor for their first dance.
In the picture, she can be seen in her baby pink wedding gown, which she had teamed with a diamond headband, necklace, earrings, and matching bracelet.
The snap was accompanied by the message: "Thank you @VeraWangGang for creating my pink fairy princess gown :) it was a dream come true"
The couple, who got engaged three months ago, went all out on the celebrations as they hired fire-breathing entertainers and stilt-walkers to amuse their 150 guests during the fire and ice-themed bash.