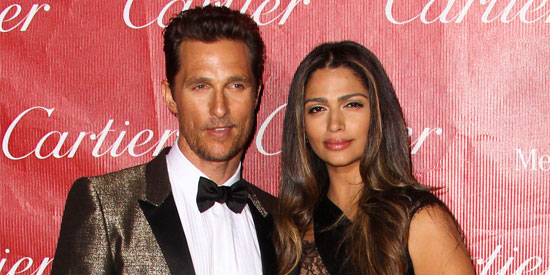 ---
Matthew McConaughey credited his wife for his Golden Globes victory.
The 44-year-old actor was visibly surprised to win Best Actor for his role as AIDS victim Ron Woodroof in Dallas Buyers Club at the annual Hollywood awards ceremony in last night, January 12 (U.S. time).
He says his spouse Camila Alves is the reason he's enjoyed a career rejuvenation of late.
Matthew thanked Camila, 31, on stage at the Beverly Hilton Hotel as he accepted the prize.
He said: "My wife, Camila, who's not only put up with me for all this time in our seven years, and this last three years... she kicked my ass out the door and said, 'Go get it McConaughey, go get it, my man, my king.' [I said], 'Yes, ma'am, yes ma'am!' "
The Hollywood hunk, who has enjoyed a string of critically-acclaimed roles in movies such as Dallas Buyers Club, Mud, and The Wolf of Wall Street over the last couple of years, also paid tribute to his children with Camila—Levi, five; Vida, four; and 13-month-old Livingston.
He added: "Kids—Levi, Vida, Mr. Stone—love you all!"
Matthew admitted his victory—which saw him see off competition from Chiwetel Ejiofor (12 Years A Slave), Robert Redford (All Is Lost), Idris Elba (Mandela: Long Walk to Freedom), and Tom Hanks (Captain Phillips)—was "unexpected."
He opened his speech by saying: "All right, all right, all right. Unexpected, but graciously accepted. Respect for the nominees—great company to be in."
Other Golden Globe award winners included Matthew's Dallas Buyers Club co-star Jared Leto, who picked up Best Supporting Actor for his role in the movie.
ADVERTISEMENT - CONTINUE READING BELOW
Read: Leonardo DiCaprio, Matthew McConaughey, Cate Blanchett, Jennifer Lawrence win Golden Globes