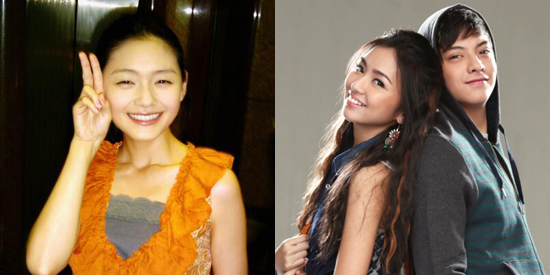 ---
It seems that the fame of ABS-CBN's Got To Believe has reached Taiwan, with no less than Barbie Xu—popularly known as San Chai of the phenomenal Taiwanese drama Meteor Garden—taking notice of the show.
The Kapamilya show has been making waves in the Twitterverse for consistently trending on the microblogging site since its first episode.
Last December 18, Barbie took notice of one of her fans' tweet about the show and asked: "What is Got To Believe?"
RT @kfmsmdmd Got to Believe in Philippines is like Meteor Garden!! -what is Got to Believe?

— 大S (@itsbarbiexu) December 18, 2013
Barbie replied to one of her fans on Monday, via Twitter, asking if she knows Chichay—the character played by Kapamilya star Kathryn Bernardo.
"@hopesantiago do you know Chichay?? hihi" -who is Chichay?

— 大S (@itsbarbiexu) January 17, 2014
Apparently, many of Barbie's fans have asked her about Got To Believe on her official account in the Chinese microblogging site Weibo.
In one of her Twitter posts, Barbie asked if there's a Philippine version of Meteor Garden.
Is there Meteor Garden Philippines version? Because I am getting a lot of messages even in weibo

— 大S (@itsbarbiexu) January 20, 2014
Her fans took notice of the similarities of their shows.
The second season of Got To Believe debuted last Wednesday, January 22, after the lead characters' breakup.
Joaquin, portrayed by teen heartthrob Daniel Padilla, had to leave Chichay to seek treatment for his brain injury overseas.
Their characters met up again after two years in Singapore where Chichay is working as an artist.
The two crossed paths for several times, but Joaquin doesn't seem to recognize her.
In the end, Barbie thanked her Filipino fans again for still remembering her character in the phenomenal Asianovela.
Meteor Garden is a decade ago. Thank you for remembering, Philippines. Also heard it's still playing in Indonesia. Thank you all!

— 大S (@itsbarbiexu) January 22, 2014