Miley Cyrus kissed Katy Perry at her concert on Saturday night, February 22.
The "Adore You" hitmaker took a moment to lock lips with the brunette beauty while performing at the Staples Centre in Los Angeles, as part of her Bangerz World Tour, after spotting the 29-year-old star singing along in the front row.
But "I Kissed a Girl" singer Katy, who is dating John Mayer, pulled away when Miley, 21, tried to stick her tongue in her mouth, according to gossip website TMZ.com.
The "Dark Horse" singer shared an aftermath photograph, which features the "Wrecking Ball" singer with her mouth hanging open in shock and Katy covering her mouth with her hand, on Twitter with the caption: "And after! I adore you @Miley Cyrus."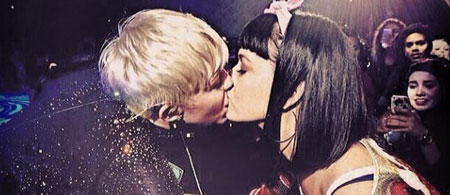 Miley hit back at critics earlier this week, who called for her raunchy tour to be cancelled and insisted she warned fans it would be X-rated.
She tweeted on Thursday, February 20: "You can't say I didn't warn you. Now sit back relax & enjoy the show. #bangerztour"
The tweet was accompanied by a picture of Miley on stage in a revealing outfit exposing her butt.
She also quipped: "Save your complaints for the McDonalds drive thru when they forget the 'fries with that'"
Nicole Richie and her husband Joel Madden, Max George, Kendall Jenner, 18, and her older half-sisters, Kourtney and Khloe Kardashian, were also spotted at the gig on Saturday night.