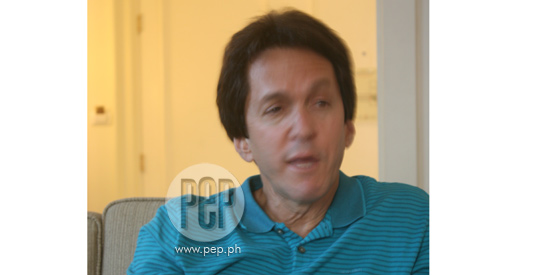 ---
"Giving makes me feel like I'm living."


Book author Mitch Albom heard this profound statement from his college professor Morrie Schwartz, whose life and death he chronicled in the bestselling book Tuesdays with Morrie.


And he seemed to have assimilated this philosophy.


The American writer is now in the Philippines mainly to visit the typhoon-hit Tacloban, where he will spearhead a project that will rebuild libraries as well as donate school supplies to ten beneficiary schools.


Albom has also been generous to Haiti, where he currently runs an orphanage after it was struck by a 7.0 magnitude earthquake in 2010, and regularly visits the Caribbean country every month.
At his press conference on February 20, at the Raffles Hotel, Makati, Albom pointed out that he is making it his advocacy to ask fellow authors to donate books for those affected by supertyphoon Yolanda (international name: Haiyan).


Stephen King, Amy Tan, and Scott Turow were some of the authors who already agreed to help him in this endeavor.


ADVERTISEMENT - CONTINUE READING BELOW
On February 21, Mitch announced on his Twitter account: "And John Grisham joins the list of authors donating their books to help rebuild typhoon-hit school libraries in Tacloban. Thank you!"







Suzanne Collins of The Hunger Games fame as well as JK Rowling of Harry Potter fame have also pledged their support for the project.







From February 22 to 23, Albom spent his weekend at book-signing events in the Glorietta Activity Center and Ayala Center Cebu.


ADVERTISEMENT - CONTINUE READING BELOW
This is his first time in the Philippines.


Will he be as hands-on in Tacloban as he's been in Haiti?


"I understand a lot of the kids are still in tents, and are learning in tents. The schools aren't even standing there. We'll have to see.
"I can't really say what I'll be doing until I go up there. I know I'll be using that trip to call attention to the situation.
"My goal is to help rebuild ten libraries up there and to populate them with books starting from me and my friends in America who are well-known authors.
"Hopefully, other authors will continue until the library is full of books.
"In terms of what I'll actually do, I don't know until we actually go there."


The best-selling author also pledged a donation to the Yellow Boat of Hope Foundation's Adopt-A-Fisherman project to help resuscitate the livelihood of Tacloban's fishing communities.
ADVERTISEMENT - CONTINUE READING BELOW
WRITING ABOUT THE AFTERLIFE. Albom also penned The Five People You Meet in Heaven as well as For One More Day, a fictional book about a man who gets to spend a day with his mother who died eight years earlier.


His latest book, The First Phone Call from Heaven, is a novel about a small town that miraculously receives phone calls from heaven.


Why does the afterlife figure much in his stories?


"Well, for one thing, it's a great mystery. I think it interests people. And there's a lot of ways to write about it that you can write about differently [in] every book…But not all my books are about the afterlife.
"Tuesdays with Morrie wasn't. Have a Little Faith wasn't. The Timekeeper wasn't.
"It's just something that comes up, like lawyers come up in John Grisham's books. Meaning of life stuff is sort of what I write about…[but my] next book isn't going to have any afterlife in it."
ADVERTISEMENT - CONTINUE READING BELOW


UPCOMING BOOK. Mitch Albom described his next book as set against the backdrop of the second half of the 20th century in American music.
The story will follow a musician who has an effect on the bands he meets throughout the course of his life. Here, Albom aims to blend fiction with music history.
"It starts from the 1950s, [with] Elvis and Doo-wop music. It goes all the way through. The reason I'm doing that is because that's the music of my life. Starting from just before I was born. All that will figure in. It's what I know…
"The backdrop to my life has been all that music. I'm very, very music-oriented. I always have music playing. I always have a song in my head. I'm very aware of the music that's going on at that time.
"To me, this will be a little bit like looking back at my own life and being able to put a character into all the music I heard during all those years. It should be fun."


ADVERTISEMENT - CONTINUE READING BELOW
Albom is also a lyricist and musician who wrote the song Hit Somebody for rock singer Warren Zevon.


He admitted that music is his first love, and his upcoming novel will reveal his fascination with it.


"All the way," he said with a smile.


Why did it take him a long time to return to his roots?


"I don't know. I guess I could have written about a musician right after Tuesdays with Morrie but I didn't…sometimes books are like plants.
"They have to come out the ground when they're ready. You ever tried to plant something you just keep watering it, nothing's there, and then you wake up one morning and then there's something there."


Apart from being a best-selling author, Albom is also a sports columnist, screenwriter, playwright, radio and TV broadcaster.
But what is it that he likes doing the most, PEP asked.
ADVERTISEMENT - CONTINUE READING BELOW
"Probably the book writing. TV and radio, they're fairly easy, but there are things that you do to help promote the things that you do otherwise.
"But that's not fulfilling by itself.
"But when I can sit and create a story from scratch, that's very fulfilling and it leads to everything else."


Mitch Albom's books have sold more than 35 million copies worldwide and have been translated to 44 languages. He was National Hospice Organization's Man of the Year in 1999 and was awarded the Red Smith Award for lifetime achievement in 2010 from the Associated Press Sports Editors.


With all his achievements, how does he want to be remembered by?


"I only want to be remembered by my family…people who really knew me...my family and dear friends. I hope I'm remembered as someone who tried to live with a little sense of purpose and left things behind a little better than when he found them, that's all."


ADVERTISEMENT - CONTINUE READING BELOW

TACLOBAN VISIT. Earlier tonight, February 24, Mitch shared a photo of him with the kids from the Pawing Elementary School in Tacloban. It went with the caption: "TACLOBAN, PH - Heartbreaking. Heartwarming. Typhoon kids have so little. Brought books + idea to rebuild. Stay tuned"