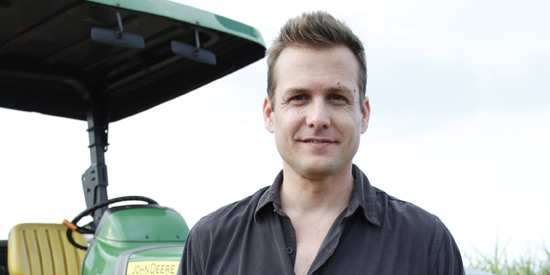 ---
Gabriel Macht may be well known as the acid-tongued, insensitive, and arrogant Manhattan lawyer Harvey Specter in TV hit drama Suits, but in real life, he is an amiable guy who speaks from the heart and inspires people.
In a recent press conference held at Raffles Hotel in Makati City, the 42-year-old actor admitted that he is the opposite of Harvey in many ways.
"He is cocky and whip smart. His brain is functioning at many different levels. He just fires away.
"Compared to him, I am so much slower and I do not talk my way out of a bag.
"Harvey is a classy guy but he is also very harsh and very judgmental.
"I consider myself, on the other hand, as a gentle soul and I follow the 'live and let live philosophy.'"
The hazel-eyed Suits star has been wanting to help Filipinos since he found out about the destruction caused by super typhoon Yolanda in 2013.
"When I first saw the images online and newscast on Typhoon Yolanda, I was immediately driven to help the victims in some way.
"And when I was asked to partner with Globe, I said to myself, 'This is my chance.'
"The way the company allows the small businesses to take responsibilities on their own to grow is truly inspiring.
"Instead of just throwing money at the problem, Globe provides the necessary tools to help these businesses get up and run," Macht pointed out.
Leyte 4th District Representative Lucy Torres-Gomez toured Macht in her hometown in Ormoc.
They were accompanied by military escorts as they traveled in the city as part of his partnership with Globe's nation-building project.
In his Twitter account, Macht posted a photo of him with the celebrity-turned-politician. He shared this photo with the caption: "Thanks to representative Lucy Torres-Gomez for giving me a tour of #ormoc today. #picstop #protection #thoughtful"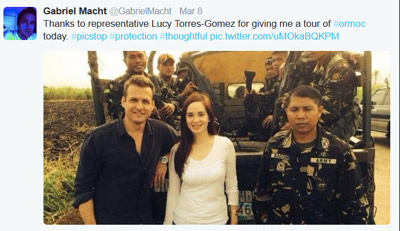 He helped put up a sign on a sari-sari store and took the time to talk to entrepreneurs as well as kids in the area.
ADVERTISEMENT - CONTINUE READING BELOW
In his Twitter account, he also retweeted a photo taken by Darren Tieste as he bonded with kids in Ormoc.
Macht mentioned the Tagalog word for beautiful when he shared this photo with the caption: "Grateful to have had this moment #projectwonderful #ormoc #kids #maganda"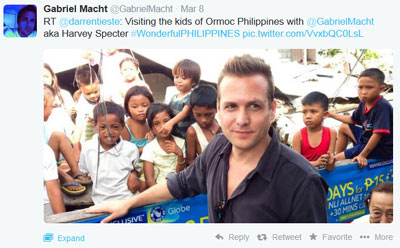 During his two-day stay in the Philippines, he got to try kakanin (rice cakes), fried banana, and freshly-made sugarcane juice.
Project Wonderful is Globe's way of helping the typhoon Yolanda victims get back on their feet by providing them livelihood opportunities, shelter, and education.
When asked why they tapped Macht, Globe Senior Vice President for Corporate Communications Yoly Crisanto said they wanted someone who is committed to help out, but does things differently.
"It's so much different with him because he just didn't go to Manila, dropped in and said thanks to those who helped, and then that's it.
"We chose him because not only we wanted someone from Hollywood, we also wanted somebody who is engaged.
"We wanted somebody who is willing to do what we have been long doing, which is making a difference differently," explained Crisanto.
Macht, who has just welcomed a second child with her actress wife Jacinda Barett, said that in just a short span of time, he has come to admire the children of Ormoc because they all demonstrated the "generosity of spirit" of Pinoys.
He said, "It was great to see all the people in town gathered around to make the most out of a potential.
"Being with them makes me feel that there's hope and I was really honored to be part of their work."
The former star of Beverly Hills 90210 said that he was deeply moved by the incredible strength showed by the people in Ormoc.
"Harvey would say that vulnerability is a weakness. I believe vulnerability is strength.
ADVERTISEMENT - CONTINUE READING BELOW
"The people in the affected villages may look vulnerable now, but with this weakness, I also see their strength because they are able to overcome obstacles.
"What I see in them is a strong culture that will enable them to get back on their feet and build anew."
The Hollywood actor wants his family to experience the hospitality that he encountered in the Philippines.
"I hope to come back to the Philippines when I have more time. I'll take my family to see the country and the beaches.
"And I want to come back to Ormoc and I wanna see how the rebuilding has gone."
Macht's sense of mentoring is anchored on having specific goals and dreams. But unlike Harvey, he values the journey more than the destination.
"There are endless possibilities when you have dreams, but make sure you enjoy as you work towards making them come true.
"My parents wanted me to be a lawyer. I am a lawyer on TV.
"It's a win-win situation, but what's more important is that I enjoy what I am doing."
What can fans and followers can expect from the new season of Suits?
Macht, who has been playing the Harvey Specter character for the past three seasons, revealed, "My father Steven Macht will have a good cameo. Olympic swimmer Michael Phelps is also doing a cameo in the show.
"Someone will be in a life-threatening situation and the firm will gather together for that character. More good stuff to watch out!"
Last year, it was his Suits co-star Patrick Adams who visited the Philippines.
To learn more about the visit of Patrick Adams, CLICK HERE