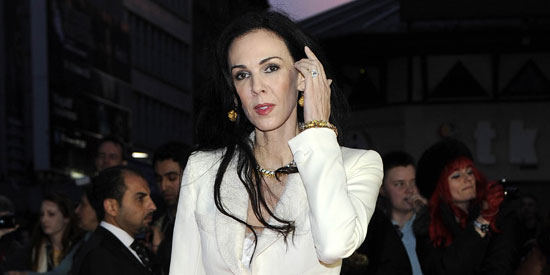 ---
L'Wren Scott has been found dead in her apartment.
The 47-year-old celebrated fashion designer—who was dating Rolling Stones star Sir Mick Jagger—was found hanging from a scarf on a doorknob in her home in Manhattan, New York, Monday, March 17, police told the New York Daily News newspaper.
The body is said to have been found by her assistant at her 200 11th Avenue address at around 10 o'clock this morning and although it's been claimed that police do not suspect foul play, the Medical Examiner's Office will determine the cause of death.
L'Wren Scott apparently took her own life.
IN DEBT. According to accounts for her business, LS Fashion LTD, which were filed in the UK in October 2013, the company was in trouble, with a deficit of £3,546,000 and the designer owing creditors £4,593,000.
Friends have said the former model, known for her headstrong ways, had always refused financial help from her multi-millionaire partner of 13 years.
Speaking about L'Wren's fashion label, which she started in 2006, a source told MailOnline.co.uk: "L'Wren was in a lot of financial trouble.
"She was unable to pay her staff and her suppliers and it had been going on for a very long period of time.
"She wanted so badly for things to be a success.
"Whereas she got her outfits on a number of high profile people, the clothes were not a commercial hit and didn't fly off the shelves.
"It was a huge burden on her and she didn't want to fail.
"Everyone was very much left wondering why she didn't ask Mick for help. But she didn't.
"Things were left a long time and she spent the past few months struggling to pay the vast amount of her outgoings. It was a tragic situation and she kept it from everyone.
ADVERTISEMENT - CONTINUE READING BELOW
"Her staff expected the company to go under and her fabric suppliers and tailors were close to ending their working relationship.
"The bills just weren't getting paid."
MICK JAGGER'S GIRLFRIEND. A spokesperson for Mick, who is currently on tour in Australia, said he is "completely shocked and devastated" by his partner's death.
L'Wren, who is a former model and stylist, had cancelled a show at London Fashion Week in January, saying at the time fabrics arrived too late for samples to be sewn for the event.
It is now thought the real reason was her financial difficulties.
L'Wren has previously spoken out about her hate for being referred to simply as Mick Jagger's girlfriend as she wanted to be recognized for her own talents, although she often used the rocker as her muse.
She said previously: "I'm a fashion designer. I don't want to be defined as someone's girlfriend.
"You always wonder if people will pay attention to the hard work that goes into what you do. And when you're taking something on your own, it's your company, your investment—your life."
The former model designed all of her 70-year-old boyfriend's outfits for the Rolling Stones' 50th anniversary tour.