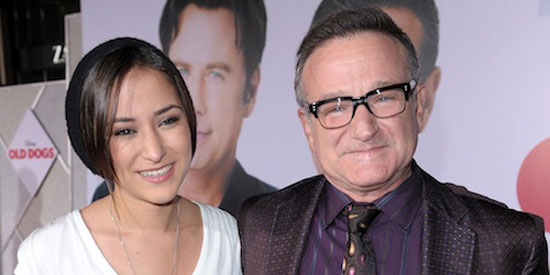 ---
Robin Williams's daughter has quit Twitter.
Grieving Zelda Williams was left sickened when she received abusive messages from two users, who also sent her Photoshopped pictures of her father—who took his own life on Monday, August 11—supposedly after his death.
She first urged her followers to report the trolls, before announcing she was taking a break from the social media site, possibly forever.
She wrote in a tweet which she then deleted: "Please report @PimpStory @MrGoosebuster. I'm shaking. I can't. Please. Twitter requires a link and I won't open it. Don't either. Please"
She then wrote: "I'm sorry. I should've risen above. Deleting this from my devices for a good long time, maybe forever. Time will tell. Goodbye."
The two users' accounts have now been suspended.
Following her father's shock death, 25-year-old Zelda used the social network to pay tribute to him.
She shared a quote from Antoine de Saint-Exupéry's literary classic The Little Prince that reads: "You—you alone will have the stars as no one else has them... In one of the stars I shall be living. In one of them I shall be laughing. And so it will be as if all the stars were laughing, when you look at the sky at night... You—only you will have stars that can laugh."
She added: "I love you. I miss you. I'll try to keep looking up, Z."
She later released a moving statement in honor of her father, as did her half-brother Zak, 31, younger brother Cody, 22, and her mother—the actor's second wife—Marsha Garces.
Paying tribute to his "best friend," Zak said: "Yesterday, I lost my father and a best friend and the world got a little grayer.
"I will carry his heart with me every day.
ADVERTISEMENT - CONTINUE READING BELOW
"I would ask those that loved him to remember him by being as gentle, kind and generous as he would be.
"Seek to bring joy to the world as he sought."
Zelda recalled the last time she spent with the Mrs. Doubtfire star.
She said: "My family has always been private about our time spent together. It was our way of keeping one thing that was ours, with a man we shared with an entire world.
"But now that's gone, and I feel stripped bare.
"My last day with him was his birthday, and I will be forever grateful that my brothers and I got to spend that time alone with him, sharing gifts and laughter.
"He was always warm, even in his darkest moments."
She also admitted she will never understand his actions and addressed his critics.
She added: "While I'll never, ever understand how he could be loved so deeply and not find it in his heart to stay, there's minor comfort in knowing our grief and loss, in some small way, is shared with millions.
"It doesn't help the pain, but at least it's a burden countless others now know we carry, and so many have offered to help lighten the load. Thank you for that.
"To those he touched who are sending kind words, know that one of his favorite things in the world was to make you all laugh.
"As for those who are sending negativity, know that some small, giggling part of him is sending a flock of pigeons to your house to poop on your car. Right after you've had it washed.
"After all, he loved to laugh too."
Cody vowed to carry his father's memory with him at all times until they reunite in death.
ADVERTISEMENT - CONTINUE READING BELOW
He said: "There are no words strong enough to describe the love and respect I have for my father.
"The world will never be the same without him.
"I will miss him and take him with me everywhere I go for the rest of my life, and will look forward, forever, to the moment when I get to see him again."
Marsha Garces, Robin's second wife and Zelda and Cody's mother, has also issued a statement, in which she said her heart had been "split wide open" and urged fans to remember the "gentle, loving, generous, brilliant and funny" star.