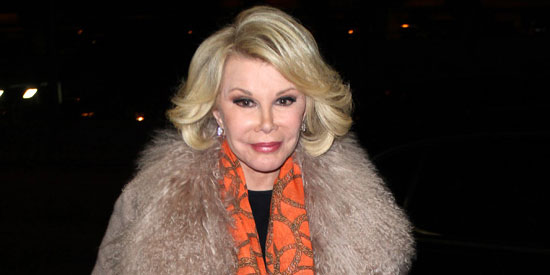 ---
Joan Rivers is reportedly in a "critical condition" after she stopped breathing during throat surgery Thursday, August 28.
The 81-year-old comedienne was reportedly rushed to Mount Sinai hospital in New York after she suffered complications while undergoing an operation on her vocal cords at Yorkville Endoscopy this morning.
According to TMZ.com, the Fashion Police host's heart stopped beating at one point, but it is now believed she's in a stable condition.
Joan's assistant Graham Reed was allegedly overheard saying, "She's not conscious, but she's stable."
However, he refused to comment on her condition when a reporter later approached him.
Joan's daughter Melissa, 46, is currently en route to New York and it is believed no drastic medical decisions will be made until she arrives at the hospital.
A family source told the New York Daily News newspaper: "This is not looking good. No big medical decisions will be made until Melissa arrives."
The emergency services received a phone call from the clinic on East 93rd street near Third Avenue at 9:39 a.m. (EDT), with the caller saying: "We have somebody in either cardiac or respiratory arrest."
Melissa later sent this statement to EW: "I want to thank everyone for the overwhelming love and support for my mother. She is resting comfortably and is with our family. We ask that you continue to keep her in your thoughts and prayers."
Mount Sinai Hospital, where Rivers is receiving treatment, has released a statement: "This morning, Joan Rivers was taken to The Mount Sinai Hospital in New York, where she is being attended to. Her family wants to thank everybody for their outpouring of love and support. We will provide an update on her condition as it becomes available."
Meanwhile, Joan failed to mention she was undergoing surgery as she filmed a special 90 minute edition of Fashion Police on Tuesday, August 26.
ADVERTISEMENT - CONTINUE READING BELOW