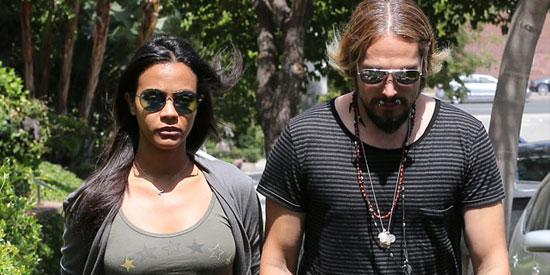 ---
Britney Spears has confirmed Zoe Saldana is expecting twins.
The 32-year-old singer, who ran into her former Crossroads co-star at Los Angeles International Airport (LAX) on Monday, September 8, accidentally let slip that rumors the pregnant actress and artist husband Marco Perego are set to welcome two babies are true.
Asked whether she would like to film a sequel to her 2002 film with Zoe, the blonde beauty told Entertainment Tonight while unveiling her new lingerie collection in New York City today, September 9: "Who knows? That's a very good idea. But she's pregnant with twins right now. So I'm sure she's got a huge future ahead of her."
Asked if she had any advice for the 36-year-old star, the "Perfume" hitmaker, who has sons, Sean Preston, eight, and Jayden James, seven, with ex-husband Kevin Federline, joked: "You're not ready. You don't know what you're in for."
Zoe, who has been sporting a baby bump for some time, only confirmed she is pregnant to avoid doing the ALS Ice Bucket Challenge last month.
The Guardians of the Galaxy star has frequently defended Britney in the past following her public breakdown in 2008.
Earlier this year, she said: "She was the one big, big celebrity that I met when I was starting to work in Hollywood who literally was humble. I do believe that people and children gravitate to good energy, and she's definitely an abundance of that."